Globalization and Sport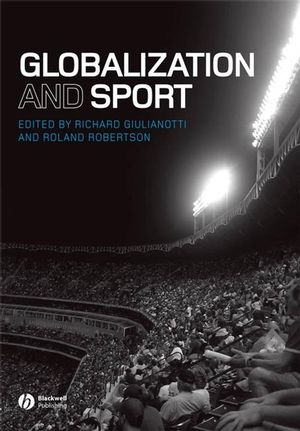 Globalization and Sport
ISBN: 978-1-405-16269-2 October 2007 Wiley-Blackwell 154 Pages
Description
Globalization and Sport
is a unique collection which places sport at the heart of debates on global processes.


Features major critical interventions by some of the world's leading sociologists and anthropologists on the subject of sport

Contributors include George Ritzer, David Andrews, Frank Lechner, William Kelly, Thomas Hylland Eriksen, Barry Smart, Paul James, Chris Rumford and Gary Armstrong

Provides a mixture of original theories and fresh research material, examining sport in a diversity of settings, including Europe, the Americas, Australasia, Africa and Asia

Essential reading for anyone interested in globalization processes or sport
Table of contents
1. Sport and Globalization: Transnational Dimensions: Richard Giulianotti and Roland Robertson.
2. Not Playing Around: Global Capitalism, Modern Sport and Consumer Culture: Barry Smart.
3. The Grobal in the Sporting Glocal: David L. Andrews and George Ritzer.
4. Steps to an Ecology of Transnational Sports: Thomas Hylland Eriksen.
5. Recovering the Social: Globalization, Football and Transnationalism: Richard Giulianotti and Roland Robertson.
6. Is Baseball a Global Sport? America's 'National Pastime' as Global Field and International Sport: William W. Kelly.
7. More Than a Game: Globalization and the Post-Westernization of World Cricket: Chris Rumford.
8. Imagined Communities in the Global Game: Soccer and the Development of Dutch National Identity: Frank J. Lechner.
9. The Global Footballer and the Local War-Zone: George Weah and Transnational Networks in Liberia, West Africa: Gary Armstrong
Reviews
"The most intriguing parts of the book are where historical details of specific sports—cricket, soccer, Gaelic football, hurling, speed skating, baseball—are offered as evidence for the essayists' arguments on how the local interacts with outside forces, whether protecting, mimicking or influencing." (YaleGlobal Online Magazine, May 2009)
Features


A unique collection which places sport at the heart of debates on global processes

Features major critical interventions by some of the world's leading social scientists on the subject of sport

Contributors include George Ritzer, David Andrews, Frank Lechner, William Kelly, Thomas Hylland Eriksen, Barry Smart, Paul James, Chris Rumford, and Gary Armstrong

Provides a mixture of original theories and fresh research material, examining sport in a diversity of settings, including Europe, the Americas, Australasia, Africa, and Asia