Globalization and the Study of Education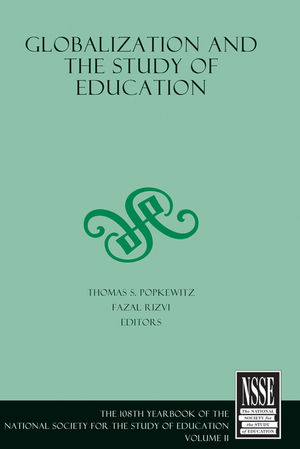 Globalization and the Study of Education
ISBN: 978-1-444-33431-9
Jan 2010, Wiley-Blackwell
200 pages
Product not available for purchase
Description
This yearbook brings together leading educational scholars who focus on how globalization is reshaping the study of education.
Papers challenge long-held assumptions and offer fresh perspectives on significant educational issues

Published on behalf of the National Society for the Study of Education
Preface (Thomas S. Popkewitz and Fazal Rizvi).
Contributors.
1. Globalization and the study of education: an introduction (Thomas S. Popkewitz and Fazal Rizvi).
2. Globalizing globalization: the neo-institutional concept of a world culture (Daniel Tröhler).
3. Scopic systems, pipes, models and transfers in the global circulation of educational knowledge and practices (Noah W. Sobe and Nicole D. Ortegón).
4. Politics, global territories and educational spaces (Rosa Nidia Buenfil-Burgos).
5. Education and the production of global imaginaries: a reflection on teachers' visual culture (Inés Dussel).
6. Capitalism, modernity and the future of education in the new social contract (Roger Dale and Susan Robertson).
7. Globalization, international education, and the formation of a transnational class? (Phillip Brown and Hugh Lauder).
8. Wither the neighborhood? education policy, neoliberal globalization and gentrification (Kalervo N. Gulson).
9. Globalization and education in japan (Kentaro Ohkura and Masako Shibata).
10. Transnational governance of higher education: on globalization and international university ranking lists (Sverker Lindblad and Rita Foss Lindblad).
11. Open education and the open science economy (Michael A. Peters).
12. Researching education policy in a globalized world: theoretical and methodological considerations (Bob Lingard).
13. Globalization as a system of reason: the historical possibility and the political in pedagogical policy and research (Thomas S. Popkewitz).
Global mobility and the challenges of educational research and policy (Fazal Rizvi).