Globalizing Responsibility: The Political Rationalities of Ethical Consumption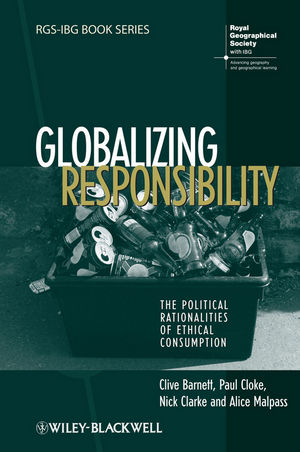 Globalizing Responsibility: The Political Rationalities of Ethical Consumption
ISBN: 978-1-444-39023-0 December 2010 Wiley-Blackwell 248 Pages
Description
Globalizing Responsibility: The Political Rationalities of Ethical Consumption
presents an innovative reinterpretation of the forces that have shaped the remarkable growth of ethical consumption.
Develops a theoretically informed new approach to shape our understanding of the pragmatic nature of ethical action in consumption processes
Provides empirical research on everyday consumers, social networks, and campaigns
Fills a gap in research on the topic with its distinctive focus on fair trade consumption
Locates ethical consumption within a range of social theoretical debates -on neoliberalism, governmentality, and globalisation
Challenges the moralism of much of the analysis of ethical consumption, which sees it as a retreat from proper citizenly politics and an expression of individualised consumerism
Table of contents
Series Editors' Preface.
Preface and Acknowledgements.
1 Introduction: Politicizing Consumption in an Unequal World.
1.1 The Moralization of Consumption.
1.2 Justice, Responsibility and the Politics of Consumption.
1.3 Relocating Agency in Ethical Consumption.
1.4 Problematizing Consumption.
Part One Theorizing Consumption Differently.
2 The Ethical Problematization of 'The Consumer'.
2.1 Teleologies of Consumerism and Individualization.
2.2 Theorizing Consumers as Political Subjects.
2.3 The Responsibilization of the Consumer.
2.4 What Type of Subject Is 'The Consumer'?
2.5 Does Governing Consumption Involve Governing the Consumer?
2.6 The Ethical Problematization of the Consumer.
2.7 Conclusion.
3 Practising Consumption.
3.1 The Antinomies of Consumer Choice.
3.2 Theorizing Consumption Practices.
3.3 Problematizing Choice.
3.4 Articulating Background.
3.5 Conclusion.
4 Problematizing Consumption.
4.1 Consumer Choice and Citizenly Acts.
4.2 Articulating Consumption and the Consumer.
4.3 Mobilizing the Ethical Consumer.
4.4 Articulating the Ethical Consumer.
4.5 Conclusion.
Part Two Doing Consumption Differently.
5 Grammars of Responsibility.
5.1 Justifying Practices.
5.2 Researching the (Ir)responsible Consumer.
5.3 Versions of Responsibility.
5.4 Dilemmas of Responsibility.
5.5 Conclusion.
6 Local Networks of Global Feeling.
6.1 Locating the Fair Trade Consumer.
6.2 Re-evaluating Fair Trade Consumption.
6.3 Managing Fair Trade, Mobilizing Networks.
6.4 Doing Fair Trade: Buying, Giving, Campaigning.
6.5 Conclusion.
7 Fairtrade Urbanism.
7.1 Rethinking the Spatialities of Fair Trade.
7.2 Re-imagining Bristol: From Slave Trade to Fair Trade.
7.3 Putting Fair Trade in Place.
7.4 Fair Trade and 'The Politics of Place Beyond Place'.
7.5 Conclusion.
8 Conclusion: Doing Politics in an Ethical Register.
8.1 Beyond the Consumer.
8.2 Doing Responsibility.
Notes.
References.
Index.
Reviews
"Globalizing Responsibility: The Political Rationalities of Ethical Consumption presents an innovative reinterpretation of the forces that have shaped the remarkable growth of ethical consumption." (Breitbart.com: Business Wire, 29 November 2010)