Globalizing South China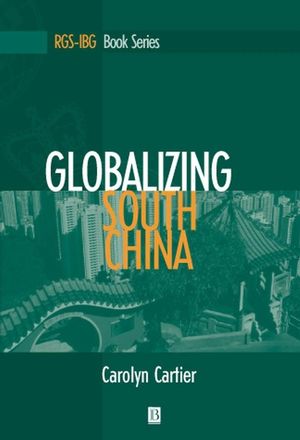 Globalizing South China
ISBN: 978-1-444-39924-0 July 2011 Wiley-Blackwell 336 Pages
Description
This insightful account demonstrates that capitalism in China has a history and a geography, and combines perspectives from both to demonstrate that regional economic restructuring in South China is far from an economic 'miracle's.
Find out more information about the RGS-IBG journals by following the links below:

AREA:

http://www.blackwellpublishing.com/journal.asp?ref=0004-0894

The Geographical Journal:

http://www.blackwellpublishing.com/journal.asp?ref=0016-7398

Transactions of the Insititute of British Geographers:

http://www.blackwellpublishing.com/journal.asp?ref=0020-2754
Table of contents
List of Plates.
List of Figures and Tables.
List of Maps.
Series Editors' Preface.
Preface.
Chapter 1 Negotiating Geographical Knowledges.
Chapter 2 Region and Representation.
Chapter 3 Maritime Frontier/Mercantile Region.
Chapter 4 Open Ports and the Treaty System.
Chapter 5 Revolution and Diaspora.
Chapter 6 Gendered Industrialization.
Chapter 7 Zone Fever.
Chapter 8 Urban Triumphant.
Epilogue.
References.
Index.
Reviews
"Relying on a wide grounding in the historical literature as well as a specialist's sense of spatial history, [Cartier] offers nuanced, often fascinating portraits of South China's economic and cultural dynamism."
Choice
"The book has broken new ground in promoting the study and understanding of urban and regional development and also China study. With the meticulous evaluation of research materials under the contextualist approach, Globalizing South China exhibits a high standard of scholarship and intellectual sophistication." Journal of Oriental Studies
What's New


Introduces readers to the issues surrounding the rise of a dynamic regional economy in South China

Explains the contemporary economic transformation in terms of the region's geography and history

Demonstrates that the area's economic rise must be understood in the context of the global restructuring of capitalism

Looks ahead to future transformations within and beyond the region as political-economic geographies continue to shift.