God, Sex, and Gender: An Introduction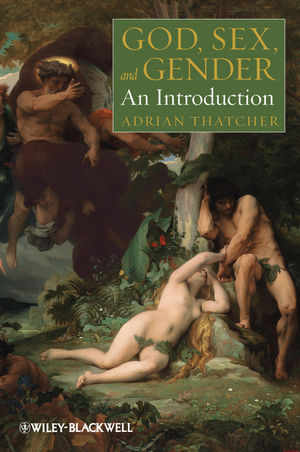 God, Sex, and Gender: An Introduction
ISBN: 978-1-444-39637-9 March 2011 Wiley-Blackwell 288 Pages
Description
Engagingly and clearly written by a highly respected theologian,
God, Sex, and Gender
is the first comprehensive introduction to a theology of both sexuality and gender available in a single volume.
Makes a theological contribution to understanding the unprecedented changes in sexual and gender relationships of the last fifty years
Discusses many topics including: sexual difference; sexual equality; gender and power; the nature of desire; the future of marriage in Christian sexual ethics; homosexuality and same-sex unions; the problems of sexual minorities; contraception in a time of HIV/AIDS; the separation of sexual experience from marriage; and offers new arguments for marriage and for chastity
Offers a consistent and engaging introduction at the cutting edge of theological inquiry, which is contemporary, undogmatic, questioning, and relevant to readers' experience, interests, and needs
Written lucidly and engagingly by an established and respected academic who has published widely in this area
Table of contents
Introduction – Or, a Welcome to My Readers.
Part 1: Sex, Gender and Theology.
1. Sex. Sexuality, the Sexes, Having Sex.
1.1 Sexuality.
1.2 How Many Sexes are There?
1.3 Having Sex.
2. Gender. Language, Power and History.
2.1 Gender.
2.2 Gender, Language and Power.
2.3 Gender in the Time of Jesus.
3. Theology.Sources and Applications.
3.1 Explaining the Sources: Scripture, Tradition, Reason.
3.2 Applying the Sources.
3.3 Using the Sources Well.
Part 2: Being Theological About Sex.
4. Desiring.
4.1 Learning from Lust.
4.2 Desiring
4.3 Desiring God?
4.4 God Desiring Us?
5.Framing Sex: Must the Framework be Marriage?
5.1 Traditional Framework: Celibacy or Marriage?
5.2 The Case Against Marriage.
5.3 Alternative Frameworks: Justice and Friendship?
5.4 A New Case for Marriage?
6. Covenants and Covenant-Makers.
6.1 Beginning with God.
6.2 God the Father – Maker of Covenants
6.3 Christ - the Bridegroom, Maker of a New Covenant.
6.4 The Eucharist – Sharing in the New Covenant.
Part 3: Being Theological about Gender.
7. God - Beyond Male and Female.
7.1 Does God Have [a] Sex?
7. 2 Is God the Son a Man?
7.3 Mary – Mother of all the Living.
7.4 Womankind in God's Likeness?
8. "In Christ there is Neither Male nor Female".
8.1 Sex in the Body of Christ.
8.2 Gender in the Body of Christ.
8.3 Masculinity in the Body of Christ.
8.4 …Neither…Male nor Female…?
Part 4: Being Theological about Same-Sex Love.
9. The Bible and Same-Sex Love.
9.1 What the Churches Teach.
9.2 Same-Sex Relations in the Hebrew Bible.
9.3 Same-Sex Relations in the New Testament.
9.4 What Else Does the Bible "Say" about Same-Sex Relations?
9.5 Finding What We Want to Find?  Evaluating Official Teaching.
10. Tradition, Reason and Same-Sex Love.
10.1 Tradition and Same-Sex Love.
10.2 Reason, Natural Law, and Same-Sex Love.
10.3 Complementarity and Same-Sex Love.
10.4 Experience and Same-Sex Love.
Part 5: Learning to Love.
11. Virginity, Celibacy, Chastity.
11.1 Valuing Virginity?
11.2 Virginity "for the Sake of the Kingdom".
11.3 In Praise of Restraint.
11.4 Commending Chastity.
12."Condilemmas": Sex and Contraception in the Time of HIV/AIDS.
12.1 Contraception, Still a Theological Issue.
12.2 Lambeth Against Rome.
12.3 Contraception and Natural Law.
12.4 Sex and Love: An "Unbreakable Connection"?
12.5 Moral Deficit Arguments.
12.6 Condoms in the Time of HIV/AIDS.
13. Marriage and the "States of Life".
13.1 Betrothal in the Bible.
13.2 Betrothal and Tradition.
13.3 Spousals, Nuptials and States of Life.
14. Inclusive Theology and Sexual Minorities.
14.1 Sex.
14.2 Gender.
Index of Authors.
Index of Biblical References.
Index of Subjects.
Reviews
"Many of the critiques of God, Sex, and Genderoffered in this review emerge from Thatcher's own lines of interrogation. In this and other ways, the book succeeds in drawing readers into what is truly an exhilarating mode of reflection. As such, it offers a major contribution towards theological depth and creativity in this important set of discourses, renewing the often reflexive ethics of sex and gender through witness to the Word become flesh."  (Studies in Christian Ethics, 16 April 2014)
"Written as a text for post-secondary courses, this book aims to provide "a comprehensive and consistent theological understanding of sexuality and gender, which is broad, contemporary, undogmatic, questioning, inclusive, and relevant to readers' interests, needs, and experience" (xi)."  (Studies in Religion, 1 September 2013)
"Adrian Thatcher's new book will be a rich resource for those studying and teaching sex, gender and sexuality in theological perspective ... The volume is a valuable one, which I hope will prompt readers to go and explore Thatcher's own extensive work form the past, as well as the broader context of theological scholarship on sexuality, gender and marriage within which it sits." (Theology, 1 January 2012)
"Although designed as an introduction for theology students, this is a really remarkable book covering a whole range of sensitive subjects in a deeply humane fashion." (Network Review, 1 June 2011)