God on Your Own: Finding A Spiritual Path Outside Religion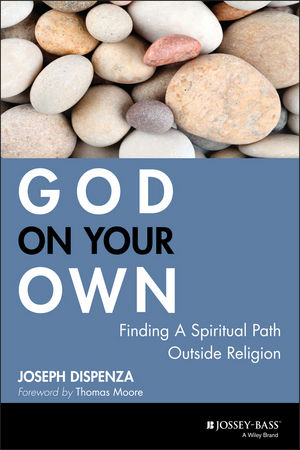 God on Your Own: Finding A Spiritual Path Outside Religion
ISBN: 978-1-118-04098-0
Dec 2010, Jossey-Bass
272 pages
Description
After spending eight years in a monastery, Joseph Dispenza walked away from his life as a monk and the religion of his youth in search of a different kind of spiritual path. Outside the confines of organized religion, Dispenza was able to create a spiritual life that gives direction and meaning to all he does and all he is. God on Your Own is written for anyone who has left (or is thinking of leaving) organized religion but wants to continue on a spiritual path. Written by noted author and retreat leader Joseph Dispenza, this book provides a spiritual road map for those who want to make the transition from conventional religion toward a richer and more satisfying direct relationship with the Source, without rules, dogmas, or doctrines. Throughout the book, Dispenza offers wise, compassionate guidance, speaking as one seeker to another. He has made this journey himself, gleaning spiritual truth from across traditions and practices.

 
Foreword, by Thomas Moore.
Introduction: Taking Back Your Soul.
PART ONE: BEGINNING.
1. A Larger Picture.
2. Beyond Religion.
PART TWO: SEEKING.
3. Sacred Skeptic.
4. Beliefs.
5. Discernment.
6. Obstacles.
PART THREE: BUILDING.
7. Detachment.
8. Innocence.
9. Responsibility.
10. Peak Experience.
PART FOUR: BEING.
11. Service.
12. Heaven on Earth.
Afterword.
Bibliography.
The Author.
Index.
In this book—part memoir, part self-help guide designed to shepherd readers from "religion to personal spirituality"—Dispenza, a former Roman Catholic monk, recounts his decades-long search beyond institutional religion. Weaving back and forth between memories of his journey into and out of the monastic life and his subsequent meanderings as a "Seeker" who has embarked on "a sacred quest for spiritual truths," Dispenza uses a wide variety of traditional religious and philosophical sources (Teilhard de Chardin, Aristotle, Jung, Zen meditation) as springboards beyond the trappings of not only traditional Catholicism but any institutionalized form of religion. Dispenza's story will appeal primarily to those spiritual seekers who are not interested in the New Age movement, yet are looking for something substantial outside organized religion. However, whether or not this particular audience will be able to stomach some of his more cringe-inducing moments (including accounts such as a "perfectly spherical soap bubble" out-of-body experience and the Rolling Stones' simplistic "Satisfaction" lyrics offered up for serious dissection) is difficult to judge, though Dispenza consistently manages to follow up the fantastic-sounding and the ridiculous with sound, intelligent reflection.
(May)
(
Publishers Weekly
, February 27, 2006)
"Dispenza … offers encouragement to all those seeking independence from the secure confines of traditional religious doctrine by detailing his own courageous journey."
"The prospect of relinquishing codified church dogma and community to travel an uncharted, unconventional path can be daunting. In his latest book, Dispenza (founder, LifePath Retreats; The Way of the Traveler) offers encouragement to all those seeking independence from the secure confines of traditional religious doctrine by detailing his own courageous journey. Through thoughtful reflection, he relates the crisis of faith he experienced as a young monk in the Roman Catholic Church, which manifested itself in the inability to reconcile his emerging beliefs with the rigid tenets of catechism. Taking enormously uncertain steps, he left the faith in search of more experiential alternatives that would grant him a more fulfilling relationship with his 'Source' (or God). The resulting narrative richly illustrates both the challenges and the rewards of embarking on such a journey and 'provides a wealth of relevant discussion material and welcome support for anyone contemplating this course.' This 'survival guide' by someone further along 'the road less traveled' is appropriate for public and academic libraries, especially those with traditional and alternative spirituality collections." (Library Journal, 2006)