Goldmining in Foreclosure Properties, 5th Edition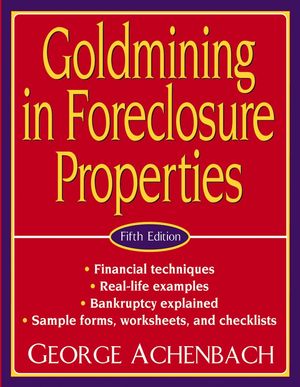 Goldmining in Foreclosure Properties, 5th Edition
ISBN: 978-0-471-48140-9
May 2004
272 pages
Description
Start Building Wealth Today by Investing in Distressed Properties!

Combining proven strategies with nearly thirty years' experience in real estate, author George Achenbach takes you step by step through the entire foreclosure process-from the first notice of default to the foreclosure sale or auction to the final disposition of the property. Everything you need to know to purchase and profit from distress properties is here, including sample forms, worksheets, checklists, and real-life examples, as well as procedures to follow, evaluation techniques, and negotiating tips. There are even suggestions on leasing homes, creating rental income, saving on taxes, and avoiding pitfalls. Additionally, a new chapter covers the pros and cons of bankruptcy and highlights the latest proposed changes in the law such as the homestead exemptions and needs-based rules.

Goldmining in Foreclosure Properties shows investors and first-time buyers how to take advantage of one of the most profitable investment opportunities in the world with expert guidance on:
* Procedures for locating distressed properties
* Financial analysis techniques for evaluating property and making the right offer
* Bidding successfully at auctions
* Effectively dealing with lenders when the property goes REO
* How you can benefit from reselling property quickly
* Negotiating tips for dealing with new purchasers and profitably transferring titles
* Generating rental income, capital appreciation, and tax savings through property leasing
Introduction.
1.Your Place in the Distress Property Cycle.
2. Where's the Gold?
3. Some Commonly Asked Questions.
4. The Rules and the Players.
5. Overall Strategies and Procedures.
6. Between Two Houses.
7. Stage I: Before Legal Action Begins.
 8. Stage II: After Legal Action Begins.
9. Negotiating with Troubled Owners.
10. Negotiating with Lenders.
11. Inspecting the Property.
12. Closing the Deal with Troubled Owners.
13. Stage III: Auction Time.
14. Stage IV: REOs and Repos.
15. Selling for Maximum Profits.
16. Upgrading with Major Improvements.
17. Being a Real Estate Investor.
18. The Time of Your Life.
19. Dealing with Bankruptcy Cases.
Glossary of Real Estate Terms.
Appendix: Selections from the California Civil Codes.
Index.