Golf's Short Game For Dummies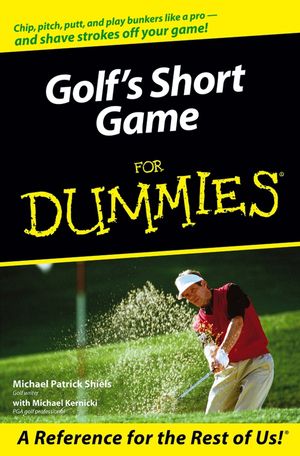 Golf's Short Game For Dummies
ISBN: 978-1-118-06992-9 April 2011 288 Pages
Description
Easy-to-grasp techniques for improving the short game
About 70 percent of the shots in a round of golf are taken 75 yards from the pin or closer, making the short game the most significant factor in a golfer's score. This practical guide shows readers how to shave strokes off their game by improving their pitching, chipping, bunker play, and putting. Golfers will find expert tips on choosing the right wedges, putters, and balls, as well as illustrated step-by-step instructions on swings used in short-game shots. They'll also find information on how to beat bunkers and other hazards and how to play various lies-in deep rough, from the fairway, uphill, side-hill, and off bare ground. There's also a section on stretches, exercises, and drills to improve techniques, as well as tips on reading greens for accurate putting.
Michael Patrick Sheils (Birmingham, MI) is a member of the Golf Writers Association of America. He has written four books, and his articles and columns have appeared in worldwide magazines and newspapers. Michael Kernicki (Miami Beach, FL) has been a PGA member for 27 years and is currently the Head Professional at the historic Indian Creek Country Club in Miami Beach.
Table of contents
Introduction.
Part I: Walking the Short Game.
Chapter 1: Sharpening Your Approach.
Chapter 2: Discerning the Short Game Certainties.
Chapter 3: Gearing Up for the Short Game.
Part II: The Long and Short of It: Short Game Technique.
Chapter 4: Chipping Off the Ol' Block.
Chapter 5: Pitch, Pitch, Pitch.
Chapter 6: Climbing Bunker Hill.
Chapter 7: Putting Your Best Foot Forward.
Part III: Short Game Strategies.
Chapter 8: Waging (and Wedging) a Ground Campaign.
Chapter 9: Selecting Putting Strategies and Remedies.
Chapter 10: Taking an Unconventional Approach.
Chapter 11: Flipping to Flop.
Chapter 12: Keeping Your Head in the Game.
Part IV: Short Cuts to the Short Game.
Chapter 13: Warming Up to the Short Game.
Chapter 14: The Games People Play.
Chapter 15: Tricks and Treats: Techniques and Tools to Improve Your Game.
Chapter 16: Learning from the Stars.
Part V: The Part of Tens.
Chapter 17: Ten Simple Secrets of Short-Shot Success.
Chapter 18: Ten Ways You Can Practice Off the Course.
Chapter 19: Ten of the Greatest Short Shots Ever.
Chapter 20: Ten Great Short Game Golf Courses.
Index.