Golf For Dummies, UK Edition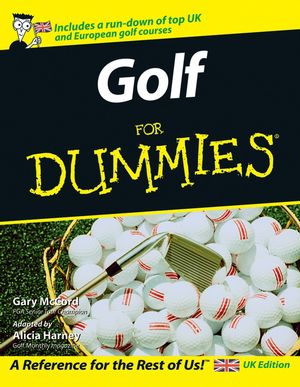 Golf For Dummies, UK Edition
ISBN: 978-1-119-99641-5
Feb 2011
400 pages
Description
Discover how to take strokes off your game by improving the technique of your swing with step-by-step photos and master the all- important putt to better your score.  Whether you're new to golf or a long-time duffer, this easy-to-follow guide will get you into the swing of things by helping you to:
Master grip, stance, and swing
Fix common faults
Improve your putting
Know the score on rules and etiquette
Take advantage of high-tech equipment
Shape up with golf-specific exercises
Where to play in the UK and Europe
How to choose your golf balls and clubs
Getting and staying in golf shape
Getting the most from your lessons
Developing your own swing
Putting, chipping, and pitching
Special shots, conditions, and considerations
Foreword.
Introduction.
Part I: Getting Started – No, You Can't Hit the Ball Yet.
Chapter 1: What Is Golf?
Chapter 2: The Fore! Fathers of Golf.
Chapter 3: The Gear of Golf.
Chapter 4: Getting and Staying in Golf Shape.
Chapter 5: Should I Get a Formal Education?
Chapter 6: Where to Play and Who to Play With.
Part II: You Ain't Got a Thing If You Ain't Got That Swing.
Chapter 7: Getting into the Swing of Things.
Chapter 8: Developing Your Own Swing.
Chapter 9: Putting: The Art of Rolling the Ball.
Chapter 10: Chipping and Pitching.
Chapter 11: It's Your Sandbox: Sand Play.
Part III: Special Shots, Conditions, and Considerations.
Chapter 12: How Tough It Is: The Weird and Wonderful Shots.
Chapter 13: Common Faults and How to Fix Them.
Part IV: Taking Your Game Public.
Chapter 14: Ready, Set, Play!
Chapter 15: Rules, Etiquette, and Scoring.
Chapter 16: Gamesmanship or Good Tactics?
Part V: The Part of Tens.
Chapter 17: Ten Timeless Golf Tips.
Chapter 18: Alicia's Ten Excellent Courses for Beginners.
Chapter 19: Alicia's Ten Favourite European Courses.
Chapter 20: Gary's Top Ten Favourite Male Players.
Chapter 21: Gary and Alicia's Top Ten Favourite Female Players.
Chapter 22: The (More Than) Ten Most Horrendous Golf Disasters.
Part VI: Appendixes.
Appendix A: Golfspeak.
Appendix B: Golf Organisations.
Index.
"...this new UK edition will be appreciated by any standard golfer..." (Birmingham Post, 17th December 2005)
"If you've ever wanted to know more about golf or improve your game then this is your guide..." (The Fairway, No 107, Dec 05)
"Does exactly what it says on the tin!" (Today's Golfer, May 2008)