Gone Fishing PTY LTD - A Manual and Computerised Accounting Practice Set Using MYOB Version 19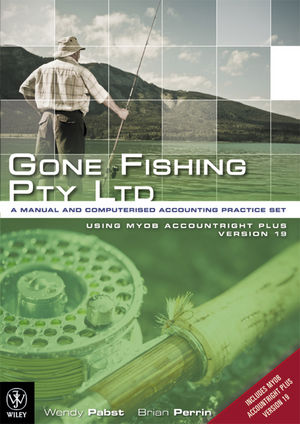 Gone Fishing PTY LTD - A Manual and Computerised Accounting Practice Set Using MYOB Version 19
ISBN: 978-0-730-30101-1
Feb 2011
102 pages
Product not available for purchase
Description
Gone Fishing is a combined manual and computerised practice set.

Part A of this practice set provides experience in manually recording and posting a variety of business transactions common to small businesses, so that students gain an understanding of the flow of data in an accounting system. Many of these processes are out-of-sight in a computerised accounting system. Completion of the practice set for a one month period should ensure a greater appreciation of:
Steps in the accounting cycle for a small business
Use of special journals for processing data more efficiently
Use of subsidiary ledgers to remove detail from the General Ledger
Perpetual inventory system
Bank account reconciliation
Balance-day adjustments and the General Ledger closing process
How the accounting cycle culminates in the preparation of financial statements
How the goods and services tax (GST) impacts on accounting.
Part B of this practice set gives students experience in setting up a data file, entering opening balances, recording transactions and producing useful reports using MYOB Accounting Plus v19. On completion of Part B, users will acquire knowledge of how the same processes as those listed above for the manual practice set operate in a computerised environment.
In order to gain the most benefit from the practice set it is recommended that Part A be completed first, followed by Part B. However, Part A and Part B can each be independently completed.
Systems Requirements
For Windows 7: Windows Vista (service Pack 2) or Windows XP (Service Pack 3)
For Mac: Mac OS X 10.4 or later.
Chapter 1 - Introduction
Chapter 2 Manual accounts
Chapter 3 Computerised accounts
Chapter 4 - Setting up the data file
Chapter 5 - Entering transactions for period 1
Chapter 6 - Reports
Chapter 7 - Completing the practice set
Appendix 1
Transactions - December 2010
Appendix 2
Transactions - January 2011
Appendix 3
An introduction to the GST and PAYG
Students will be required to complete the first months transactions manually before proceeding the second month and MYOB
Set up a data file for a company and process transactions for one month
An overview of the MYOB Command Centres is provided
Includes installation guidelines for MYOB AccountRight Plus
The transactions for period 1 are demonstrated in Chapter 4 with step-by-step instructions and screen shots of relevant windows, so that students can compare their screens against the screen shots before recording the entry or moving to the next step
A CD containing MYOB AccountRight Plus V19 is included with the practice set
An additional months transactions (August 2010) are included in the solutions manual for tutors to use as an in-class test of students' skills and knowledge.