Good Clinical Practice: Standard Operating Procedures for Clinical Researchers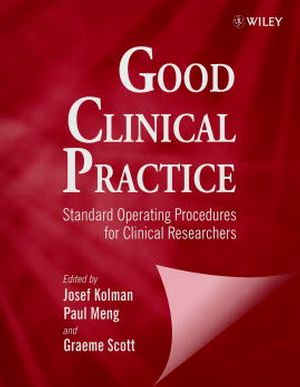 Good Clinical Practice: Standard Operating Procedures for Clinical Researchers
ISBN: 978-0-471-96936-5 May 1998 210 Pages
Description
There is a growing trend for investigators to adopt a more formal approach to the procedures applied to various stages of clinical trials. Most environments employ some form of standard operating procedures which are designed to be used as 'working tools' within that particular field, e.g. standard operating procedures in hospitals for doctors and nurses. With rigorous standards of good clinical practice being applied to all areas, optimizing the design and use of standard operating procedures is more in demand every day. Topics covered include:
A brief description of the history and development of clinical research and good clinical practice
An explanation of what standard operating procedures are and how they work
A selection of actual standard operating procedures and checklists
This well-constructed and timely work, set out in a logical, sequential order provides the necessary material needed to develop a useful set of investigator standard operating procedures.
Table of contents
Clinical Research.

Phases of a Clinical Trail.

Clinical Trial Design.

History and Development of GCP.

Good Clinical Practice -
What is It?

Responsibilities of the Investigator.

Standard Operating Procedures.

Organisation of Clinical Trials.

Abbreviations.

SOP 0: Preparation, Approval and Review of SOPs.

SOP 1: Study Organisation and Planning.

SOP 2: Study Team: Definition of Responsibilities.

SOP 3: Study Files and Filing.

SOP 4: Local Management Requirements.

SOP 5: Review and Validation of the Protocol.

SOP 6: Review of Protocol Amendments.

SOP 7: Case Report Form (CRF) Review.

SOP 8: Investigator's Brochure.

SOP 9: Estimation of Patient Numbers.

SOP 10: Ethics Committee.

SOP 11: Indemnity, Compensation and Insurance.

SOP 12: Laboratory.

SOP 13: Pre-Study Monitoring Visits.

SOP 14: Patient Recruitment and Intention to Enrol.

SOP 15: Obtaining Personal Written Informed Consent.

SOP 16: Obtaining Informed Consent for Patients Unable to Give Personal Consent.

SOP 17: Randomisation and Stratification.

SOP 18: Blinding: Codes and Code Breaking.

SOP 19: Case Report Form (CRF) Completion.

SOP 20: Study Drugs.

SOP 21: Monitoring Visits.

SOP 22: Adverse Event and Serious Adverse Event Reporting.

SOP 23: Nursing Procedures.

SOP 24: Clinical Procedures.

SOP 25: Trial Report.

SOP 26: Archiving.

SOP 27: Audits and Inspections.

FDA Regulations Concerning Clinical Trials.

Index.