Google Analytics 2.0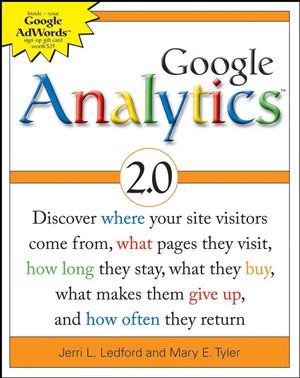 Google Analytics 2.0
ISBN: 978-0-470-54942-1
Jun 2009
336 pages
Product not available for purchase
Description
Site statistics give you raw numbers, but Web analytics crunch those numbers into meaningful metrics you can actually use. Here's what's new in Google Analytics 2.0, such as cross-segment reporting and drilldown content that enhance analysis. Learn to set up Analytics and choose filters, explore goals and goal-setting, use customizable dashboards and date ranges, and master basic analytics and Web statistics concepts. Examine every aspect of available reports, learn to use those best suited for e-commerce sites, and more.

BONUS: Each copy of Google Analytics 2.0 includes a $25 Google AdWords gift card compliments of Google. With this $25 gift card , you can attract new customers to your website on Google's dime.
Acknowledgments.
Introduction.
Part One: Basic Analytics.
Chapter 1. Why Analytics?
Chapter 2. Analytics and AWStats.
Chapter 3. Yes! More AWStats.
Part Two: Setting Up Google Analytics.
Chapter 4. Getting Started.
Chapter 5. The Settings Dashboard.
Chapter 6. Filtering Your Data.
Chapter 7. Using Analytic Goals.
Chapter 8. AdWords Integration.
Chapter 9. Advanced Topics.
Part Three: The Dashboards.
Chapter 10. The New Dashboard.
Chapter 11. Setting Date Ranges.
Part Four: All Reports: Visitors.
Chapter 12. Visitors Overview.
Chapter 13. Visitor Trending.
Chapter 14. Visitor Loyalty.
Chapter 15. Browser Capabilities.
Chapter 16. Network Properties.
Chapter 17. User Defined.
Part Five: All Reports Traffic Sources.
Chapter 18. Traffic Sources.
Chapter 19. AdWords.
Chapter 20. Additional Traffic Reports.
Part Six: All Reports: Content.
Chapter 21. Content Overview.
Part Seven: All Reports: Goals.
Chapter 22. Goals Overview.
Part Eight: All Reports: E-Commerce.
Chapter 23. E-Commerce.
Chapter 24. Product Performance.
Chapter 25. More E-Commerce Reports.
Index.