Google Blogger For Dummies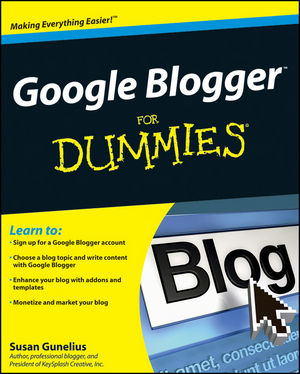 Google Blogger For Dummies
ISBN: 978-0-470-46996-5 February 2009 384 Pages
Description
Are you bemused by blogs? Eager to become a blogger?
Google Blogger For Dummies
can help you start blogging sooner than you think.
More than 14 million people are promoting a business, connecting with family and friends, and sharing opinions with Google Blogger. This book helps you start a Blogger account, create content, build an audience, make money from your blog, and more, all without learning to program. You'll be able to:
Learn the parts of a blog, what Blogger does, and how to choose goals and blog topics
Choose a domain name, learn to use the dashboard, pick a template, and configure settings
Dress up your blog with themes and find out where to get plenty of free ones
Learn blogging etiquette and some secrets for long-term success
Make money from your blog with Google Adsense, contextual and text link ads, and merchandising with CafePress
Set up multi-user blogs or branch into mobile blogging, podcasting, or video blogging
Take advantage of social networking sites and learn simple search engine optimization techniques
Maintain your blog with tools like Blog This! and Quick Edit
Moderate comments effectively, track your stats, and more
Google Blogger is a great choice for beginning bloggers, and Google Blogger For Dummies gives you the know-how to venture confidently into the blogosphere.
Table of contents
Introduction.
Part I: Introducing Google Blogger.
Chapter 1: Choosing Blogger as Your Blogging Software.
Chapter 2: Welcome to the Blogosphere.
Chapter 3: Blogging Basics and Buzzwords.
Part II: Using Google Blogger.
Chapter 4: Getting Started with Blogger.
Chapter 5: Setting Up Your Blog.
Chapter 6: Writing and Publishing Blog Posts.
Chapter 7: Enhancing Your Blog with Templates.
Chapter 8: Adding Features and Functionality with Elements and Gadgets.
Chapter 9: Managing Your Blog.
Part III: Making Money with Blogger.
Chapter 10: The Business of Blogging.
Chapter 11: Maximizing Revenue with Google AdSense.
Part IV: Growing Your Audience.
Chapter 12: The Power of Networking and Relationship Building.
Chapter 13: Boosting Your Search Engine Ranking.
Part V: Extending Your Blog.
Chapter 14: Growing or Downsizing Your Blog.
Chapter 15: Blogging from Different Media.
Chapter 16: Moving Beyond Blogger.
Part VI: The Part of Tens.
Chapter 17: Ten Useful Social Networking and Social Bookmarking Sites.
Chapter 18: Ten Common Blogger Problems and Possible Solutions.
Chapter 19: Ten Places to Find Free Blogger Themes and Templates.
Glossary.
Index.