Goss's Roofing Ready Reckoner: Metric Cutting and Sizing Tables for Timber Roof Members, 4th Edition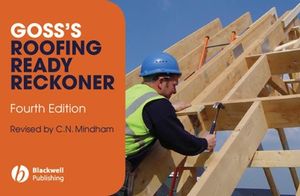 Goss's Roofing Ready Reckoner: Metric Cutting and Sizing Tables for Timber Roof Members, 4th Edition
ISBN: 978-0-470-69798-6 April 2008 Wiley-Blackwell 192 Pages
Description
Goss's Roofing Ready Reckoner
provides rafter dimensions for timber roofs of any span and pitch. Additional information is provided on wall plate and gable strapping, wind bracing, truss clips and other roofing metalwork, and tools and equipment.
This new edition includes roof timber member design tables, information on warm and cold roofs, their ventilation and insulation, plus detailed drawings for tiling, slating and other roof coverings.
Table of contents
1. Introduction.
2. Roofing terminology.
3. Calculating the size of timber members.
4. Calculating the length and cutting angles of timber members,.
Data tables 5 degrees – 74 degrees.
5. Wall plates – strapping and gable strapping.
6. Wind bracing and openings for Dormers and roof windows.
7. Roofing metalwork and fixings.
8. Roof coverings – felt, battens and tiles,.
a) Underlay and battens,.
b) Insulation and ventilation,.
c) Choosing the covering.
9. Roof covering – building detail drawings,.
1) Slates,.
2) Concrete interlocking tiles,.
3) Plain tiles.
4) Felt shingles,.
5) Metal tiles.
10. Tools & Equipment.
11. Health and safety issues – Considerations.
Bibliography.
Index
Features
● An essential tool for all house builders
● New information on timber member design, warm and cold roofs, and drawings on tiling, slating and roof coverings
● Invaluable for those involved in extensions, alterations, attic conversions and restoration
● Revised and expanded by the author of Roof Construction and Loft Conversion
● A true pocket guide to roof construction