Governance in the Community College: New Directions for Community Colleges, Number 141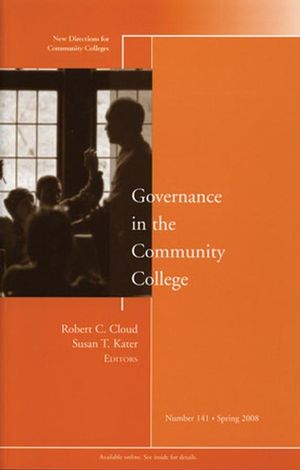 Governance in the Community College: New Directions for Community Colleges, Number 141
ISBN: 978-0-470-32134-8 April 2008 Jossey-Bass 112 Pages
Description
Community college governance is a process for distributing authority, influence, and resources among internal and external constituencies. Having evolved from traditional public school bureaucratic and political models that emphasize control and oversight, community college governance is now a dynamic process with a host of participants. Gone are the days when presidents and trustees acted unilaterally on college issues. Although boards retain the legal authority to govern their colleges, prudent trustees now encourage broad-based involvement in governance. Nationwide, the trend is toward more participation and shared responsibility, and some states are codifying the process. For example, the California legistlature has mandated a shared governance system in public community colleges, reflecting the movement toward involvement and transparency. College leaders resist or ignore that trend to the detriment of their colleges and at their own peril.

Interest in community college governance will increase among scholars and practitioners for many reasons. Enrollments are increasing rapidly while funding is not keeping pace. Taxpayer resistance is a reality. Workforce training programs will compete with transfer curricula for resources. Increasing numbers of poorly prepared students will require remediation. For-profit institutions will compete for students. Employee unions will press for better salaries and benefits and meaning participation in governance. Special interest groups will continue electing advocates to governing boards. P-19 initiatives will require close collaboration with public schools. In the meantime, rogue trustees will try the patience of everyone. Traditional governance models will not suffice in this demanding arena. Governance structures that are more collegial, flexible, and inclusive will be essential in the future as community colleges evolve to meet the needs of an increasingly complex and diverse society.

Chapters include
Community College Governance: What Matters and Why?
Governance over the Years: A Trustee's Perspective
Governance in a Union Environment
Internal Governance in the Community College: Models and Quilts
The Effect of the Community College Workforce Development Mission on Governance
Closing the Gaps in Texas: The Critical Role of Community Colleges
Yanks, Canucks, and Aussies: Governance as Liberation
Governance in Strategic Context
Key Resources on Community College Governance
This is the 141th volume of the Jossey-Bass higher education quarterly report series New Directions for Community Colleges, an essential guide for presidents, vice presidents, deans, and other leaders in today's open-door institutions, this quarterly provides expert guidance in meeting the challenges of their distinctive and expanding educational mission.
EDITORS'NOTES (
Robert C. Cloud, Susan T. Kater
).
1. Community College Governance: What Matters and Why? (Marilyn J. Amey, Eric Jessup-Anger, Jody Jessup-Anger)
This chapter sets the stage for understanding governance in the community college and why it matters.
2. Governance over the Years: A Trustee's Perspective (George E. Potter, Daniel J. Phelan)
This chapter provides an overview of board governance, its effectiveness, and changes over more than four decades. The authors offer strategies for creating partnerships between presidents and trustees that lead to future institutional success.
3. Governance in a Union Environment (Timothy K. Garfield)
The presence of a faculty union in a community college has a pervasive impact on its governance. This chapter offers recommendations for dealing with the challenges presented by collective bargaining in the postsecondary education environment.
4. Internal Governance in the Community College: Models and Quilts (Michael T. Miller, Jennifer M. Miles)
This chapter describes the various approaches to internal shared governance utilized by community colleges.
5. The Effect of the Community College Workforce Development Mission on Governance (Janice Nahra Friedel)
This chapter explores the relationship between the workforce development mission and community college governance, using the states of Kentucky and Iowa as case studies.
6. Closing the Gaps in Texas: The Critical Role of Community Colleges (Laurie Bricker)
This chapter examines the role of community college governance in a P–16 environment. The discussion focuses on development of the initiative, opportunities, and challenges faced in Texas and other states that have P–16 or P–20 systems.
7. Yanks, Canucks, and Aussies: Governance as Liberation (John S. Levin)
This chapter offers a three-nation perspective on college governance, emphasizing the condition of autonomy embedded in governance arrangements.
8. Governance in Strategic Context (Richard L. Alfred)
Forces inside and outside community colleges are changing the context for governance and mandating new and different approaches to decision making.
9. Key Resources on Community College Governance (Pam Schuetz)
This chapter outlines a collection of helpful resources on governance.
INDEX.