Governing Japan: Divided Politics in a Resurgent Economy, 4th Edition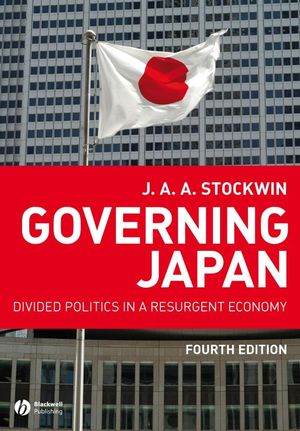 Governing Japan: Divided Politics in a Resurgent Economy, 4th Edition
ISBN: 978-1-405-15416-1 April 2008 Wiley-Blackwell 320 Pages
Description
This fourth edition provides an in-depth, up-to-date, chronological analysis of Japan's current political system and the contributions of its leaders. It emphasizes why Japan and its politics matters in a global society.



Ideal for college courses on Japanese or comparative politics as well as for those interested in Japanese war memory, constitutional revision, and Japan's relationship with the US, China, and North and South Korea

Investigates the divided aspects existing below the veneer of consensus in Japanese politics

Explores conflicts between power-hungry political groups as well as fundamental differences regarding Japan's constitution, the interpretation of Japanese actions in the Asia-Pacific War, and Japan's place in today's world

Advocates a system that readily permits changes of party in power for the present system dominated by the Liberal Democratic Party

Examines the extreme statements of high profile politicians to determine whether a "nationalist resurgence" in Japan is real or not

Sheds light on the official incompetence and the spectacular rise of civil society following the Kobe earthquake

Features numerous Japanese sources
General Editor's Introduction.
List of Tables.
Maps.
Conventions.
Acknowledgements.
1. Introduction: Why Japan and its Politics Matter.
2. Historical Background: Japan's Emergence as a Modern State and the Politics of War, 1853--1945.
3. Social Background: How far Social Norms and Behaviour Influence Politics.
4. Political Reconstruction and Development, 1945-1989.
5. One Step Forward and One Step Back: Attempting Political Reform in the 1990s.
6. New Politics for the New Millennium: The Koizumi Effect.
7. Who Runs Japan?.
8. Parliament and Parliamentary Elections: The Changing Character of Electioneering.
9. The Politics of Party: The Liberal Democrats and their Rivals.
10. Some Problems of the Constitution.
11. Issues of Domestic Political Concern.
12. Issues of Foreign Policy and Defence.
13. Conclusions: The Analytical Challenge of Japanese Politics.
Appendix 1: House of Representatives Election Results, 1946-1955.
Appendix 2: House of Representatives Election Results, 1958-1972.
Appendix 3: House of Representatives Election Results, 1976-1990.
Appendix 4: House of Representatives Election Results, 1993-2005.
Appendix 5: House of Councillors Election Results, 11 July 2004.
Appendix 6: House of Councillors Election Results, 29 July 2007.
Further Reading.
Index
"The first three editions (1975, 1982 and 1999) have been essential reading for the last two generations of Japan scholars. The latest, published in 2008, is no exception. This is a masterful display of concise and informative writing and a joy to read." (
Japanese Studies
, December 2009)
"This clearly written and well-organized volume will continue to be of great service to students of Japanese politics." (Pacific Affairs, Autumn 2009)
"Devoid of jargon, this book is written clearly and crisply, and peppered with wit and wisdom. ... Refreshing and pleasing to hear the voice of an eminent British scholar on Japanese politics in a field dominated by American and Japanese academics." (Japanese Journal of Political Science, 2009)
"Arthur Stockwin ... is the leading British expert on Japanese politics. His analysis is succinct and he has managed to unravel most of the complexities of Japanese politics. There is much food for thought in this stimulating and informative book." (Japan Times)


Ideal for college courses on Japanese or comparative politics as well as for those interested in Japanese war memory, constitutional revision, and Japan's relationship with the US, China, and North and South Korea

Offers a chronological approach featuring important recent changes in the Japanese political system

Investigates the divided aspects existing below the veneer of consensus in Japanese politics

Explores conflicts between power-hungry political groups as well as fundamental differences regarding Japan's constitution, the interpretation of Japanese actions in the Asia-Pacific War, and Japan's place in today's world

Advocates a system that readily permits changes of party in power for the present system dominated by the Liberal Democratic Party

Examines the extreme statements of high profile politicians to determine whether a "nationalist resurgence" in Japan is real or not

Sheds light on the official incompetence and the spectacular rise of civil society following the Kobe earthquake

Features numerous Japanese sources