Governing the Japanese Economy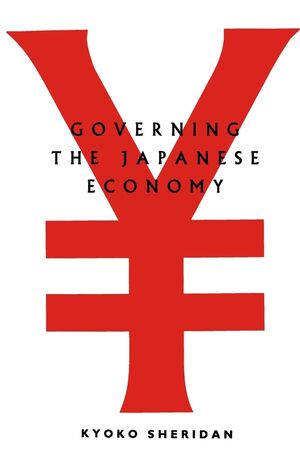 Governing the Japanese Economy
ISBN: 978-0-745-61414-4
Jun 1994, Polity
300 pages
Description
This book offers a novel and wide-ranging interpretation of Japanese economic policy, using historical analysis of Japanese economic development to shed light on current objectives, trends and possibilities.
List of Tables.
List of Figures and Charts.
List of Material Appearing in the Appendix.
Introduction: The Past and Potential Role of Government in Japanese Economic Life.
1. Feudalism and Modernisation, 1800-1880.
2. Deciding the Principles of Japanese Capitalism, 1881-1900.
3. Capital Accumulation and Economic Growth, 1901-1936.
4. Social Policy in Economic Policy, 1901-1936.
5. Economic Conduct of the Pacific War, 1937-1945.
6. Reconstruction, 1946-1955.
7. High-Speed Economic Growth, 1956-1972.
8. A Decelerated Economy, 1973-1990.
9. Explanations: The Nature and Government of Japanese Capitalism, 1868-1990.
10. Neglected Producers.
Appendix: Statistical Tables.
Bibliography.
Index.
'... A thoughtful overview of the evolution of the Japanese economy ... she writes in a way which will be both helpful and interesting for students.' International Affairs
'I was pleasantly surprised with Sheridan's book. ... She has been able to weave a consistent, complex tale about Japanese development with the state at the centre'. The Journal of Asian Studies
'Governing the Japanese Economy, offers a provocative and timely assessment of the role of government in Japan over the past few hundred years and provides a blueprint for future policy. ... Sheridan provides excellent tables and accessible and detailed footnotes...' Japanese Studies Bulletin
'Wide-ranging examination of Japanese economic development. Offering an 'alternative' historical overview, she presents Japanese economic performance as the culmination of 120 years of conscious government proprietorship.... There is a wide public consciousness of corruption, abuse of market power, and growing income inequalities. This book gives us the tools with which to forecast how Japanese government agencies are likely to respond to the social crisis.' B J McFarlane, University of Newcastle
* This book provides a wide-ranging historical account of the development of the Japanese economy, from the 17th century to the present day.
* The author presents an alternative theory to the traditional western view of Japan's economic development, emphasising the role of the state.
* The book sheds new light on the nature of the Japanese economic miracle and offers a set of concrete policy proposals.