Government and Binding Theory and the Minimalist Program: Principles and Parameters in Syntactic Theory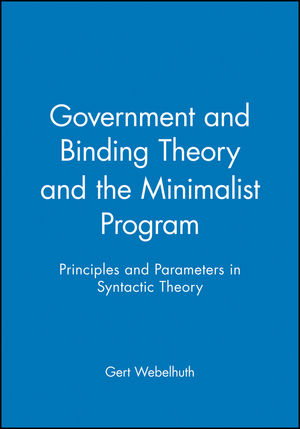 Government and Binding Theory and the Minimalist Program: Principles and Parameters in Syntactic Theory
ISBN: 978-0-631-18061-6
May 1995, Wiley-Blackwell
496 pages
Description
This volume provides an authoritative overview of Government and Binding Theory, and -- in crucial new papers by Noam Chomsky and Alec Marantz -- of the subsequent development of the Minimalist Program.
Introduction: Gert Webelhuth (University of North Carolina).
1. X-Bar Theory and Case Theory: Gert Webelhuth (University of North Carolina).
2. Theta Theory: Edwin Williams: (Princeton University).
3. Logical Form: C. T. James Huang (University of California, Irvine).
4. Binding Theory, Control and Pro: Wayne Harbert (Cornell University).
5. The Empty Category Principle: Norbert Hornstein & Amy Weinberg (University of Maryland).
6. Morphosyntax: Randall Hendrick (University of North Carolina).
7. The Minimalist Program: Alec Marantz (M. I. T.).
8. Bare Phrase Structure: Noam Chomsky (M. I. T.).
"This text fills an important gap in the market - the first serious attempt at survey of the contemporary state the art in syntax. It will be useful for final-year undergraduates, graduate students, and professional linguists who want to get themselves up-to-speed with issues, controversies, and currently 'hot' leading-lights."
Rita Manzini, University College, London
"This collection of articles provides exactly the sort of up-to-the-minute coverage of key issues that such students need to bridge the gap between their own knowledge and the often rather forbidding primary literature. Each is written by an acknowledged expert in the relevant field and serves to explain the agenda of current research against a comprehensive bibliographical survey. It will be an indispensible tool for anyone with a serious interest in consolidating or updating their knowledge of contemporary syntactic theory." Geoffrey Horrocks, University of Cambridge
"This book serves the critical role of passing on the basic lore of generative syntax to the current generation. It is highly readable and well-organized. Given the volume of research relevant to shaping this lore and the advent of the minimalist program, which is reshaping it at a fundamental level, this is a timely and useful book. It is highly readable and well organised. It effectively transmits enough of the tradition of generative grammar and its leading principles to capture what it is that gives coherence to the generative culture and furnishes the culture with its current vitality. This book also raises several issues which are paramount to determining the shape that generative syntax will take in the future including the nature of the lexicon, the level of descriptive adequacy necessary to sustain a syntactic theory, the role of functional heads in language, and the degree to which a syntactic theory should predict certain linguistic features to be common or rare cross-linguistically." Lindsay Whaley, Dartmouth College
* The definitive, cutting-edge handbook to generative syntax.
* Includes new articles by Chomsky and Marantz on the minimalist program.
* All essays are written by leading figures in the field.
* Includes invaluable consolidated and fully up-to-date bibliography.