Government and Not-for-Profit Accounting: Concepts and Practices, 6th Edition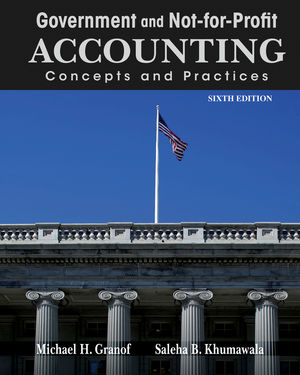 Government and Not-for-Profit Accounting: Concepts and Practices, 6th Edition
ISBN: 978-1-118-15597-4
Jan 2013
832 pages
Product not available for purchase
Description
By emphasizing concepts, rather than rules and procedures, Granof's Government and Not-for-Profit Accounting, 6th Edition ensures that students will gain insight into how and why the issues may have been resolved either similarly or differently in the business sector. Unlike other government and NFP accounting texts, this book is directed for both potential users and preparers of financial reports. Government and Non-Profit Accounting helps make students aware of the dynamism of government and not-for-profit accounting and of the intellectual challenges that it presents. Emphasizing real world applications and an "issue-oriented" approach, the text explains concepts concisely and connects them with real world examples and is conceptual, yet provides complete coverage of all topics likely to appear on the CPA exam.
Chapter 1The Government and Not-for-Profit Environment 1
Chapter 2 Fund Accounting 36
Chapter 3 Issues of Budgeting and Control 89
Chapter 4 Recognizing Revenues in Governmental Funds 133
Chapter 5 Recognizing Expenditures in Governmental Funds 180
Chapter 6 Accounting for Capital Projects and Debt Service 228
Chapter 7 Capital Assets and Investments in Marketable Securities 272
Chapter 8 Long-Term Obligations 309
Chapter 9 Business-Type Activities 348
Chapter 10 Fiduciary Funds and Permanent Funds 402
Chapter 11 Issues of Reporting, Disclosure, and Financial Analysis 464
Chapter 12 Not-for-Profit Organizations 515
Chapter 13 Colleges and Universities 576
Chapter 14 Health Care Providers 611
Chapter 15 Managing for Results 641
Chapter 16 Auditing Governments and Not-for-Profit Organizations 682
Chapter 17 Federal Government Accounting 722
Glossary 775
Value Tables 793
Index 801
Complete, thorough, accurate and up to date coverage of all the new authoritative pronouncements issued by GASB since the 5th edition in general, and in particular coverage on:

GASB Std # 54 (Fund Balance Reporting and Governmental Fund Type Definitions),
GASB Std # 63 (Financial Reporting of Deferred Outflows of Resources, Deferred Inflows of Resources, and Net Position),
GASB Std # 65 (Items previously reported as Assets and Liabilities),
GASB Concepts Statement # 4 which defines the key elements of financial statements, expands the basic accounting equation and alters certain financial statements and
The two new pronouncements that GASB will be issuing that make critical changes to the existing standards on Pensions (GASB Stds # 25, 27 and 50).
GASB proposals on fiscal sustainability
The GAAP hierarchies issued by GASB (Std # 62) and latest pronouncements by FASAB.
Current issues being dealt with by GASB, FASB and FASAB
Governmental financial reporting is illustrated using the financial statements from the City of Charlotte CAFR for FY 11
throughout Chapters 2 through 11.

For chapters 12-14 on Not-for-profits, the text includes illustrative examples from real charities and covers the extensive IRS compliance and reporting requirements.
In Chapter 16 on Public Sector Auditing, the revised Government Auditing Standards and the AICPA's enhanced audit requirements for supplementary information are covered.
The 6th edition will also include:

Internet based exercises and additional discussion questions at the end of chapters.
Examples from various cities across the US to make the material more interesting.
Mini-Cases and Questions help students build valuable critical thinking skills by asking them to read, interpret, and analyze the financial statements of real not-for-profits and governmental entity
Chapters covering state and local accounting principles include a Continuing Problem which asks students to review the comprehensive annual financial report and answer questions about it.
Actual CAFR continuing problem that includes actual financial statements of Charlotte, North Carolina.
Emphasis on planning, control and performance evaluation reflects the true nature of nonprofit accounting.
Exercises for Review and Self Study include most of the CPA problems that have appeared on the CPA exam in the last decade.
Uses the dual track approach to teach governmental accounting.