Government and Not-for-Profit Accounting: Concepts and Practices, 7th Edition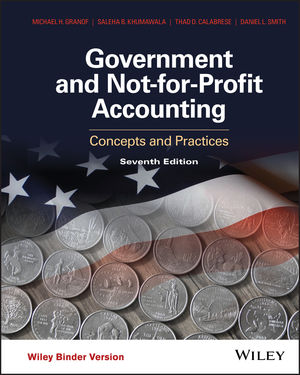 Government and Not-for-Profit Accounting: Concepts and Practices, 7th Edition
ISBN: 978-1-118-98327-0
Aug 2016
864 pages
Description
Government and Not-for-Profit Accounting, 7th Edition by Michael Granof, Saleha Khumawala, Thad Calabrese, and Daniel Smith makes students aware of the dynamism of government and not-for-profit accounting and of the intellectual challenges that it presents. Not only does the 7th edition keep students informed of current accounting and reporting standards and practices, but it also ensures that they are aware of the reasons behind them, their strengths and limitations, and possible alternatives.
GASB Updates Complete and up to date coverage of the new pronouncements issued by GASB since the 6th edition:
Statement No. 67, Financial Reporting for Pension Plans
Statement No. 68, Accounting and Financial Reporting for Pensions
Statement No. 74, Financial Reporting for Postemployment Benefit Plans Other than Pensions
Statement No. 75, Accounting and Financial Reporting for Postemployment Benefits Other than Pensions
Statement No. 72, Fair Value Measurement and Application
Statement No. 70, Accounting and Financial Reporting for Nonexchange Financial Guarantees
New Standards Updates Provides coverage of other significant GASB statements, applicable Financial Accounting Standards Board (FASB) updates to standards, AICPA Audit and Accounting Guides, and publications of the Office of Management and Budget, as well as, the Government Accountability Office.


This text will lead not only to an awareness of the issues of government and not-for-profit accounting, but also to a greater understanding of those in other areas of accounting. By emphasizing concepts rather than rules and procedures, students will gain insight into how and why the issues may have been resolved either similarly or differently in the business sector.

Critical Thinking Contributes to students' ability to read, write, and think critically.

End-of-Chapter Problems Challenges students not only to apply concepts that are presented in the text, but to justify the approach they have taken and to consider other possible methodologies.

CPA Prep Covers all topics that are likely to be tested on the CPA exam so students can use this text to prepare for the exam.

CGFM Prep Helps students prepare for the Certified Government Financial Manager exam (CGFM) and other professional certification exams in which matters relating to government and not-for-profit are tested.