Grant Writing For Dummies, 3rd Edition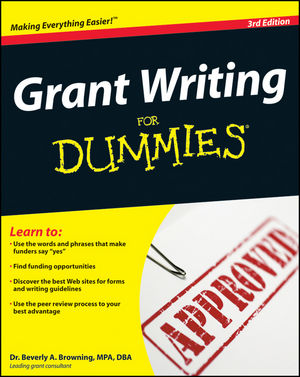 Grant Writing For Dummies, 3rd Edition
ISBN: 978-0-470-46397-0
Jan 2009
360 pages
Product not available for purchase
Description
Grant Writing For Dummies, 3rd Edition serves as a one-stop reference for readers who are new to the grant writing process or who have applied for grants in the past but had difficulties. It offers 25 percent new and revised material covering the latest changes to the grant writing process as well as a listing of where to apply for grants. Grant writers will find:
The latest language, terms, and phrases to use on the job or in proposals.
Ways to target the best websites to upload and download the latest and user-friendly application forms and writing guidelines.
Major expansion on the peer review process and how it helps improve one's grant writing skills and successes.
One-stop funding websites, and state agencies that publish grant funding opportunity announcements for seekers who struggle to find opportunities. New to third edition.
Introduction.
Part I: Finding Your Way with Grant Basics.
Chapter 1: Grasping the Basics of Finding and Getting the Bucks.
Chapter 2: Mapping Success with a Funding Development Plan.
Chapter 3: Adding Winning Words to Your Request for Proposal.
Part II: Identifying Key Grantmakers Worldwide.
Chapter 4: Checking Out Public Funding Epicenters.
Chapter 5: Wading through Grants.gov.
Chapter 6: Uncovering Private Sector Funding.
Chapter 7: Finding Individual and Business Grant Opportunities.
Chapter 8: Scoping Out International Grants.
Part III: Playing and Winning the Grants Game.
Chapter 9: Using Your Resources to Win Government Grants and Contracts.
Chapter 10: Writing to Convince Peer Reviewers to Give You the Maximum Points.
Chapter 11: Magnetizing Funders with Powerful Writing.
Part IV: Writing a Competitive Application Narrative.
Chapter 12: Creating the Documents Outside of the Main Narrative.
Chapter 13: Building Grant Applicant Credibility.
Chapter 14: Conveying a Hopeless Situation and a Need for Funds.
Chapter 15: Laying Out the Plan of Action: Program Design and Accountability.
Chapter 16: Presenting Your Staff and Resources.
Chapter 17: Connecting the Budget to the Plan of Action.
Part V: Reaching the Finish Line.
Chapter 18: Wrapping Up Your Funding Package.
Chapter 19: Managing Follow-Up Tasks.
Chapter 20: Celebrating or Commiserating: Do It the Right Way.
Chapter 21: Crafting the Corporate Letter Request.
Part VI: The Part of Tens.
Chapter 22: Ten Tips for Unearthing Hard-to-Find Information.
Chapter 23: Ten Ways to Secure Peer Review Opportunities.
Appendix: A Complete Example of a Grant Application Narrative.
Index.