Graphene: An Introduction to the Fundamentals and Industrial Applications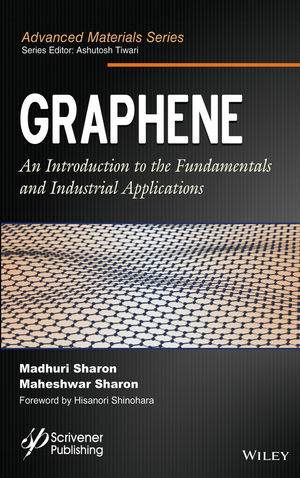 Graphene: An Introduction to the Fundamentals and Industrial Applications
ISBN: 978-1-118-84255-3
Jul 2015
320 pages
Description
Often described as a "miracle material", graphene's potential applications are extraordinary, ranging from nanoscale 'green' technologies, to sensors and future conductive coatings.
This book covers the topic of 'graphene' – the history, fundamental properties, methods of production and applications of this exciting new material. The style of the book is both scientific and technical – it is accessible to an audience that has a general, undergraduate-level background in the sciences or engineering, and is aimed at industries considering graphene applications.
As the graphene topic is a broad-reaching and rapidly moving field of research, the aim of this book is therefore to provide information about graphene and its current and future applications that are immediately implementable, relevant and concise. After reading this book, the reader will have sufficient knowledge and background to move forward independently into graphene R&D and to apply the knowledge therein. Although the book will be self-contained, each chapter has copious references to enable further reading, research and exploration of the chapter topics.
Foreword (Hisanori Shinohara) xv
Preface xvii
1 The History of Graphene 1
2 Structure and Properties of Graphene 17
2.1 The Structure of Graphene 17
2.2 Disorder in Graphene Structure 25
2.3 Properties of Graphene 28
2.4 Summary 37
3 Nanographene and Carbon Quantum Dots (C-Dots) 39
3.1 Nanographene 40
3.2 Graphene Quantum Dots or Carbon Dots 46
3.3 Conclusions 71
4 Identification and Characterization of Graphene 73
4.1 Introduction 73
4.2 Microscopic Methods 76
4.3 Spectroscopic Methods 81
4.4 Optical Property Analysis 93
4.5 Measurement of Mechanical Properties 99
4.6 Thermal Properties and Thermal Effect Analysis 105
4.7 Characterization of Electrical Properties 108
4.8 Work Function 109
4.9 Anomolous Quantum Hall Effect 109
4.10 Spin Transport 110
4.11 Summary 111
5 Engineering Properties of Graphene 113
5.1 Introduction 113
5.2 Engineering Magnetic Properties 114
5.3 Engineering Graphene with Enhanced Mechanical Properties 115
5.4 Engineering the Field Emission (FE) Properties 119
5.5 Engineering Band Gap or Energy Gap of Graphene 120
5.6 Engineering the Electronic Properties of Graphene 122
5.7 Engineering Structural Properties of Graphene 132
5.8 Summary 142
6 Applications of Graphene 145
6.1 Application Possibilities 146
6.2 Summary 164
7 Towards Mass Production of Graphene: Lab to Industry (Scaling Up) 167
7.1 Exfoliation of Graphite: A Top-Down Approach 168
7.2 Length-Wise Unzipping of Carbon Nanotubes (CNT) 171
7.3 Chemical Vapor Deposition (CVD) Method 179
7.4 Epitaxial growth of Graphene on Silicon Carbide 181
7.5 Reduction of Graphene Oxide (GO) 184
7.6 Arc-Discharge Method 194
7.7 Solvothermal Method 194
7.8 Substrate-Free Gas Phase Synthesis Of Graphene 195
7.9 Other Growth Methods 196
7.10 Summary 196
8 Direct Transfer or Roll-To-Roll Transfer of Graphene Sheet onto Desired Substrate 197
8.1 Introduction 197
8.2 Direct Transfer of Graphene by Etching and Scooping Method 199
8.3 Direct Transfer of Graphene by Etching and Scooping Method Using a Graphene Protecting Media 200
8.4 Roll-to-Roll Synthesis and Transfer of Graphene 205
8.5 Apparatus Used for Roll-to-Roll Transfer of Graphene Sheet 208
8.6 Considerations for Minimizing Defects or Cracking During Transfer 212
8.7 Summary 214
9 Graphene in Industry, Commercialization Challenges and Economics 217
9.1 Introduction 217
9.2 Graphene Industries 219