Gravitational Marketing: The Science of Attracting Customers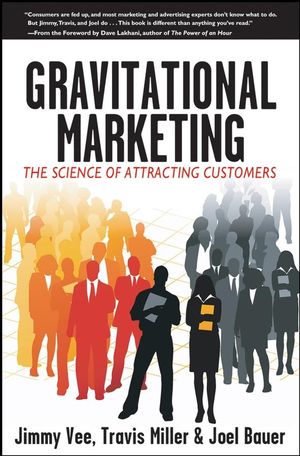 Gravitational Marketing: The Science of Attracting Customers
ISBN: 978-0-470-22647-6
Mar 2008
272 pages
Product not available for purchase
Description
If you're an entrepreneur, business owner, or sales professional, Gravitational Marketing offers a simple method for attracting customers without the hassle of traditional manual sales labor. If you want to sell more and work less, this book exposes the principles of easily and effortlessly attracting customers without cold calling, prospecting, or begging for business. With Gravitational Marketing, you can finally stop chasing customers and let them come to you.
Foreword by Dave Lakhani.
Preface.
Introduction.
Part One. The Laws Of Gravitational Marketing.
Chapter 1. The Power of Gravity.
Chapter 2. Anatomy of Gravitational Marketing.
Chapter 3. How to Be Worthy of Attraction.
Chapter 4. The Newton in All of Us.
Chapter 5. The Object of Your Attraction.
Chapter 6. Increase Your Gravitational Potential.
Chapter 7. Creating Irresistible Attraction.
Part Two. Gravitational Marketing Attraction Techniques.
Chapter 8. Activate Your Gravitational Attraction.
Chapter 9. Attracting Through Personal Effort.
Chapter 10. Attracting Through Direct Mail.
Chapter 11. Attracting Through Print.
Chapter 12. Attracting Through Free Publicity.
Chapter 13. Attracting Through the Internet.
Chapter 14. Attracting Through Radio & Television.
Epilogue.
References.
How To Get More Jim & Travis.
How To Get More Joel Bau.
The Ultimate Free Gift.
Jim & Travis Recommen.
About the Authors.