Great Web Architecture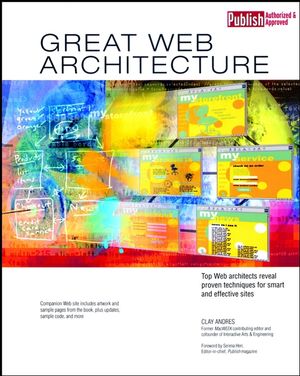 Great Web Architecture
ISBN: 978-0-764-53246-7
Sep 1999
217 pages
Product not available for purchase
Description
Learn from the pros! Illustrated throughout with full-color images of top sites -- including those of Starbucks, Purina, the Getty Center, Salon Magazine, and Carnegie Hall -- this hands-on guide is your blueprint for successful Web architecture. Each chapter explores a different secret, from building a hierarchy and mapping links to developing vivid themes and planning for expansion. Drawing on interviews with top Web architects, author Clay Andres shows you how to construct easy-to-navigate, aesthetically pleasing sites that elegantly project your identity while solving real-world business challenges.
Preface.
Acknowledgements.

PART I: SECRETS OF WEB ARCHITECTURE.

Chapter 1: Building Hierarchically Structures Site Plans.

Chapter 2: Navigating Sites: The Flow of Pages.

Chapter 3: Defining Design Elements.

Chapter 4: Envisioning Information.

Chapter 5: Reading Is Believing.

Chapter 6: Integrating Multimedia into the Structure.

PART II: WEB ARCHITECTURE IN ACTION.

Chapter 7: Informational Sites.

Chapter 8: Marketing Sites: It's All About Selling.

Chapter 9: Establishing an Identity: Self-Branding.

Chapter 10: Designers Speak.

Index
Bonus Content
Bonus Content
Author Clay Andres has provided links, images, and sample code as a companion to Great Web Architecture. Just click on the downloads or link on the menu to the left to see the content available.