Great Web Typography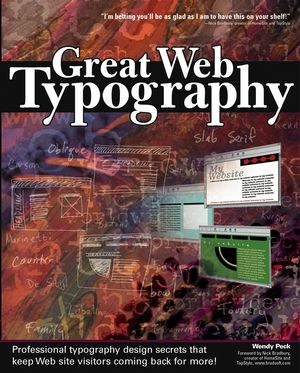 Great Web Typography
ISBN: 978-0-764-53700-4
Feb 2003
338 pages
Product not available for purchase
Description
* Demystifies Web typography by revealing the secrets of professional developers!
* Shows how to find, select and implement Web typography that will give any site a slick, professional look!
* Demonstrates how to use Cascading Style Sheets and other technologies to control the way type appears on any browser!
* Describes how to make beautifully design sites download super-fast.
* Shows how to set type that wraps around images and other objects on the page.
* Provides professional secrets for increasing type legibility.
* Provides recipes for type special effects that will "wow" site visitors and ensure that they come back for more!
* Includes real-world case studies and examples from top companies.
* Includes interviews with top Web design experts and Web type gurus.
Foreword.
Preface.
Acknowledgments.
Part I: Getting Started with Web Typography.
Chapter 1: Defining Web Type Issues.
Chapter 2: Design Principles for Web Type.
Chapter 3: Working with HTML Text.
Part II: Controlling Web Type with Cascading Style Sheets (CSS).
Chapter 4: What Is CSS?
Chapter 5: Creating Cascading Style Sheets.
Chapter 6: CSS Menus.
Chapter 7: Design with CSS Content Text.
Part III: Graphic Type for the Web.
Chapter 8: Introduction to Graphic Typography.
Chapter 9: Creating Graphic Text for the Web.
Chapter 10: Customizing Graphic Text for the Web.
Chapter 11: Graphic Type Special Effects.
Chapter 12: Putting It All Together.
Part IV: Typography for Flash.
Chapter 13: Creating Basic Type in Flash.
Chapter 14: Perfecting Type in Flash.
Appendix A: Where To From Here?
Appendix B: Which Software Does What?
Appendix C: Chapter 6 HTML Code and Style Sheet.
Index.