Greed: Gut Feelings, Growth, and History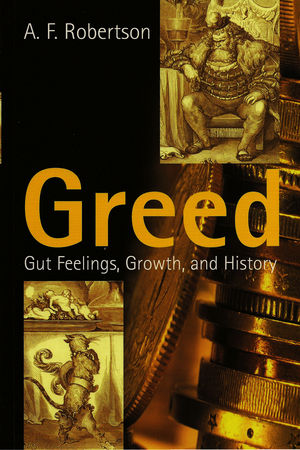 Greed: Gut Feelings, Growth, and History
ISBN: 978-0-745-62605-5
Apr 2001, Polity
288 pages
Description
'Greed' is a visceral insult. It jabs below the belt, evoking guilty sensations of gluttony and lust. It taunts the rich and powerful, penetrating the cover of modern ideologies and institutions. Today, old-fashioned accusations of greed drag the larger-than-life corporate fat cats down to human bodily proportions, accusing them of gain without genuine growth.


This lively new book is a wide-ranging inquiry into how greed works in our lives and in the world at large. Western philosophy has intellectualized human passions, explaining and justifying our expansive desires as 'rational self-interest'. However, an examination of the visceral power of greed tells us something about the apathy of modern theory. It shows us how confused we have become about the meanings of growth, creating false and morally hazardous distinctions between biology on the one hand, and history on the other. With greed as a guide, this book considers how the integrity of these meanings may be restored.


This remarkable book will be of interest to anyone concerned about the morality of economic behavior in the modern world. It will be an important text for students in the social sciences, especially in
anthropology, sociology, development studies, and business studies.
List of Figures and Captions.
Acknowledgements.
1. Introduction.
2. What Do We mean By Greed?.
Part I: Denials and Apologies:.
3. Beastly Passions and Legitimate Desires.
4. Discipling Greed.
5. Scholars and Idiots.
Part II: How Greed Grows:.
6. Feeling and Meaning.
7. Growth and History.
Part III: Three Bio-Histories:.
8. The Gluttonous Peasant.
9. The Avaricious Pensioner.
10. The Venal Professional.
11. Corporate Greed.
References.
Tailpiece.
'Robertson's subject is the human catastrophe of a modern society built on separation and division, especially of the mind and the body. His method is to use a focus on greed as a means of conceptually reuniting meaning and feeling. Greed is in turn linked to the reality and metaphor of growth on which so much in modern society depends. This is not just imaginative; it is unique.'
Keith Hart, King's College, Aberdeen
'Robertson daringly goes to the heart of the private and collective body in search of the dark forces of social and ecological destruction. This is no ordinary work, but an ambitious reach across discourses and vast time spans. He challenges us to think in fundamental ways about "growth", and how the very concept once misapplied leads to malignant outcomes.'Harvey Molotch, New York University

"The book is a compelling and timely read -fast paced, at times quite playful, and decidedly passionate- in which the author develops a critique of anthropological theory, as well as of capitalism, by using greed as the analytical focal point...This is a finely crafted book that will readers much to consider through its provocative advocacy of a new moral economics" James H. McDonald, Anthropogical Theory

Although it is fluent, engaged, and ocassionally funny, this is not an easy book. THat is because Robertson asks us to make a significant change in the ways that we as academics think about the world. It is worth the effort, though. The rewards are great." James G. Carrier, The Journal of The Royal Anthropological Institute
A A lively and well written account of a neglected topic - greed
A Uses the topic of greed as a way to explore broader issues concerning the nature and development of modern societies
A Written with a trade as well as an academic market in mind
A Many illustrations and featured examples from historical and modern sources