Greek Religion: Archaic and Classical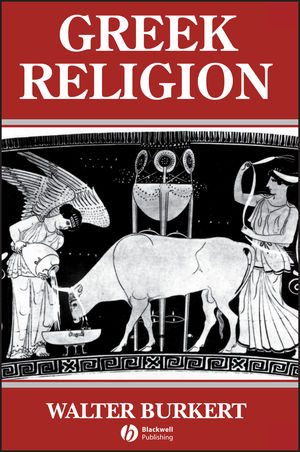 Greek Religion: Archaic and Classical
ISBN: 978-0-631-15624-6 January 1991 Wiley-Blackwell 504 Pages
Description
This is the first major synthesis of Greek religion to appear for a generation. A clearly structured and readable survey for classical scholars and students, it will also be generally welcomed as the best modern account of any polytheistic religious system. The text builds up an impressive and coherent picture of the current state of knowledge about the religion of the ancient Greeks.
Table of contents
Introduction.
A Survey of Scholarship.
The Sources.
The Scope of the Study.
Part I: Prehistory and the Minoan-Mycenaean Age.
2. The Neolithic and Early Bronze Age.
3. Indo-European.
4. The Minoan-Mycenaean Religion.
5. The Dark Ages and the Problem of Continuity.
Part II: Ritual and Sanctuary.
6. 'Working Sacred Things: Animal Sacrifice.
7. Gift Offerings and Libation.
8. Prayer.
9. Purification.
10. The Sanctuary.
11. Priests.
12. The Festival.
13. Ecstasy and Divination.
Part III: The Gods.
14. The Spell of Homer.
15. Individual Gods.
16. The Remainder of the Pantheon.
17. The Special Character of Greek Anthropomorphism.
Part IV: The Dead, Heroes, and Chthonic Gods.
18. Burial and the Cult of the Dead.
19. Afterlife Mythology.
20. Olympian and Chthonic.
21. The Heroes.
22. Figures Who Cross the Chthonic-Olympian Boundary.
Part V: Polis and Polytheism.
23. Thought Patterns in Greek Polytheism.
24. The Rhythm of the Festivals.
25. Social Functions of Cult.
26. Piety in the Mirror of Greek Language.
Part VI: Mysteries and Asceticism.
27. Mystery Sanctuaries.
28. Bacchica and Orphica.
29. Bios.
Part VII: Philosophical Religion.
30. The New Foundation: Being and the Divine.
31. The Crisis: Sophists and Atheists.
32. The Deliverance: Cosmic Religion and Metaphysics.
33. Philosophical Religion and Polis Religion: Plato's Laws.
Notes.
Bibliography.
Index of Greek Words.
Index.
Reviews
"A powerful synthesis from the greatest living authority on the subject, but for all its depth and detail, it is never less than lucid and the text is constantly enlivened with vivid asides and illuminating analogies."
The Times
"The leading continental scholar ... his Greek Religion... already has the standing of a classic." London Review of Books
"A masterpiece, packed with learning but also rich in ideas and connections of every sort ... nobody else could have produced an account of the subject of comparable range and power. This will be the best history of Greek religion for this generation." New York Review of Books