Greek Tragedy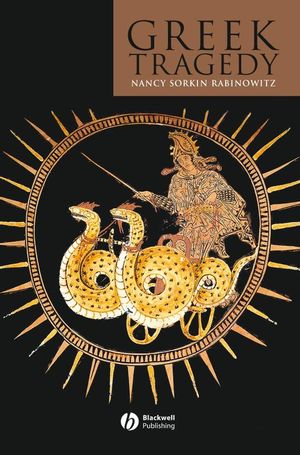 Greek Tragedy
ISBN: 978-0-470-69326-1 April 2008 Wiley-Blackwell 232 Pages
Description
Greek Tragedy sets ancient tragedy into its original theatrical, political and ritual context and applies modern critical approaches to understanding why tragedy continues to interest modern audiences.



An engaging introduction to Greek tragedy, its history, and its reception in the contemporary world with suggested readings for further study

Examines tragedy's relationship to democracy, religion, and myth

Explores contemporary approaches to scholarship, including structuralist, psychoanalytic, and feminist theory

Provides a thorough examination of contemporary performance practices

Includes detailed readings of selected plays
List of Figures.
Preface.
Introduction.
Part I Tragedy in Its Athenian Context.
1 What Was Tragedy?.
Definitions of Tragedy.
What Did It Do?.
Where Did It Come From?.
How Were the Plays Performed?.
2 Tragedy and the Polis.
Democracy.
Empire and Hegemony.
Performance Setting.
Rhetoric.
Referentiality.
Ideology.
Nothing to Do with the City?.
3 Tragedy and Greek Religion.
Dionysos.
Sacred Time and Space.
Ritual Practices.
Ritual Practice in Tragedy.
Greek Gods and Mortals.
Tragedy and Myth.
Euripides' Bacchai.
Part II Thematic Approaches.
4 War and Empire.
Aeschylus' Persians.
Aeschylus' Oresteia.
Euripides' Iphigeneia at Aulis.
5 Family Romance and Revenge in the House of Atreus.
Euripides' Elektra.
Sophocles' Elektra.
6 Victims and Victimizers.
Euripides' Trojan Women.
Euripides' Hekabe.
Euripides' Medea.
7 The King and I.
Sophocles' Antigone.
Sophocles' Oedipus Tyrannos.
8 Epilogue: Modern Performances (with Sue Blundell).
References.
Index
"Nancy Sorkin Rabinowitz has made a most useful contribution to the field.... An insightful discussion of tragedy which is up-to-date with scholarly developments and academic debate, which offers helpful modern parallels throughout in connection with political and social issues." (
Scholia Reviews
, 2009)
"A new approach to a popular subject offering readings of some of the best-known Attic tragedies in both their ancient and modern contexts. The author's application of contemporary debates and issues to the ancient material is refreshing and stimulating. This book has much to offer."
Fiona McHardy, Roehampton University

"As a supplement … [it's] a vein of gold. [The author's] nuanced familiarity with every aspect of the topic of Greek drama is breath-taking." (About.com)



An engaging introduction to Greek tragedy, its history, and its reception in the contemporary world with suggested readings for further study

Examines tragedy's relationship to democracy, religion, and myth

Explores contemporary approaches to scholarship, including structuralist, psychoanalytic, and feminist theory

Provides a thorough examination of contemporary performance practices

Includes detailed readings of selected plays