Green Building: Project Planning and Cost Estimating, 3rd Edition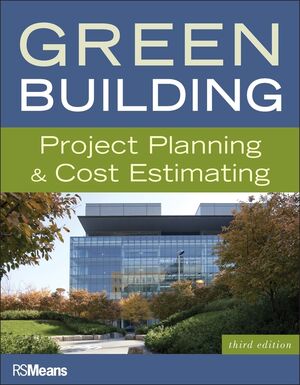 Green Building: Project Planning and Cost Estimating, 3rd Edition
ISBN: 978-1-118-02875-9 July 2011 480 Pages
Description
A unique cost reference, updated and expanded, for architects, engineers, contractors, building owners, and managers
Green building is no longer a trend. Since the publication of the widely read first edition of this book, green building has become a major advancement in design and construction. Building codes and standards have adopted much stricter energy efficiencies. Businesses, institutions, and communities have discovered huge savings, along with health and marketing advantages, in sustainable building. Private facilities, as well as public buildings for Federal, state, and local governments are increasingly required to design and build sustainably in both new construction and renovation.
This Third Edition has been updated with the latest in green building tech-nologies, design concepts, standards, and costs. The chapters, case studies, and resources give you practical guidance on green building, including the latest on:
Green building approaches, materials, rating systems, standards, and guidelines

Energy efficiencies, implementing energy modeling tools

Designing and specifying, as well as commissioning, green building projects

Often-specified products and materials, as well as a sample spec

Goals and techniques for health, comfort, and productivity

Evaluating the cost versus value of green products over their life cycle

Low-cost green strategies, and special economic incentives and funding

Building deconstruction and cost considerations
With a new chapter on greening of commercial real estate, this reference is a one-stop resource for the latest in green building approaches and implementation.
The contributors, all prominent leaders in green building, include:
Mark Kalin, FAIA, FCSI, author of the original GreenSpec

Andy Walker, Ph.D., PE, senior engineer with NREL

Joseph Macaluso, AACE, certified cost consultant
Acknowledgments.
About the Contributors.
Foreword.
Introduction.
Part 1: Green Building Concepts.
Chapter 1: Green Building Approaches.
Resource Effi ciency.
Demolition/Construction Practices.
Recycling.
Environmental Sensitivity.
Water/Landscape.
Sewage Treatment.
Designing for People: Health & Productivity.
Green Building Hurdles.
Conclusion.
Chapter 2: Introduction to Green Building Materials & Systems.
Green Material Alternatives by CSI Division.
Alternative Materials.
Conclusion.
Chapter 3: Building Deconstruction.
What Exactly is Deconstruction?
Who Performs Deconstruction?
The Deconstruction Process.
Economic Benefits.
Cost Considerations.
Conclusion.
Chapter 4: Efficient Use of Energy & Other Resources.
Understanding Occupants' Needs & Expectations.
The Building Envelope & Systems Interactions.
Energy Efficiency Strategies.
Electrical Power Generation.
Renewable Energy & Distributed Generation Technologies.
Water Conservation.
Conclusion.
Chapter 5: Solar Energy Systems.
Background: Energy, Economics, Environment, Health & Security.
Energy Use in Different Types of Buildings.
The Solar Resource.
Passive Solar Heating.
Cooling Load Avoidance.
Photovoltaics.
Solar Water Heating.
Solar Ventilation Air Heating.
Conclusion.
Chapter 6: Wind Power.
Applications & Concerns: An Overview.
Other Considerations.
Basic Criteria for Using a Wind System.
Small Wind System Components.
Evaluating the Local Wind Resource.
Estimating the Cost of Wind Systems.
Obstacles & Incentives.
Building Permit Issues.
Connecting Wind Systems to Utility Grids.
Conclusion.
Chapter 7: Health, Comfort & Productivity.
Indoor Air Quality.
Thermal Comfort.
Quality of Light.
Water Quality.
Noise Management.
Furniture & Furnishings.
Flooring & Wall Finishes.
Carpeting, Rugs & Mattresses.
Conclusion.
Part 2: Designing, Specifying & Commissioning the Green Building.
Chapter 8: The Green Design Process & Associated Costs.
Technology & Information Sharing.
Team Building & Goal Setting.
Cost of a LEED® Rating.
The Design Team.
The Building Program.
Design Team Selection Criteria.
Design Team Statement of Work.
Costs of Energy Modeling.
Schematic/Preliminary Design.
Design Development.
Construction Documents.
Bid Solicitation & Contract Award.
Construction.
Operations & Maintenance.
Measurement & Verification.
Establishing a Green Team in an Existing Facility.
Conclusion.
Chapter 9: Rating Systems, Standards & Guidelines.
Whole Building Multiple Attribute Ratings.
Whole Building Single Attribute Ratings.
Building Product Labels.
Measurement & Management Standards.
Conclusion.
Chapter 10: Budgeting & Financing Construction.
Initial Costs.
Future Costs.
Low-Cost Green Strategies.
Cost Estimating Overview.
Financial Analysis Introduction.
Financing Options.
Incentive Programs.
Conclusion.
Chapter 11: Specifying Green Products & Materials.
Building Product Manufacturers & Green Products.
What Are Green Products?
Who Selects Green Building Products?
When Are Green Products Selected?
A Green Product Checklist.
Greening Your Firm.
Conclusion.
Chapter 12: Commissioning the Green Building.
The Programming Phase.
The Design Phase.
The Construction Phase.
The Acceptance Phase.
The Post-Acceptance Phase.
Conclusion.
Part 3: Analyzing Economic & Environmental Impacts.
Chapter 13: Economic Analysis & Green Buildings.
Economic Efficiency.
Discounting.
Study Period.
Uncertainty & Risk.
Measures of Economic Evaluation.
Supplementary Measures of Economic Evaluation.
Basic Steps in LCC Analysis.
Selection Criteria for Supplementary Measures.
Computer-Supported LCC Analysis.
Conclusion.
Chapter 14: Evaluating Products Over Their Life Cycle.
Measuring Environmental Performance.
Measuring Economic vs Environmental Performance.
Overall Performance: Economic & Environmental.
Conclusion.
Chapter 15: Evaluation, Analysis & Data Tools.
Building Information Modeling.
Whole Building Energy Evaluation.
Energy-10.
EnergyPlus.
SPARK.
HOT3000.
Green Footstep.
Building Systems Evaluation.
Codes & Standards Compliance Evaluation.
Life Cycle Analysis.
Case Studies & Databases.
Creating Project Cost Databases.
Conclusion.
Chapter 16: The Greening of Commercial Real Estate.
The Role of Government.
Owner/Investor Interests.
Tenant Expectations.
Factors Limiting the Adoption of Green.
Green Investment Instruments.
Conclusion.
Part 4: Case Studies.
Appendix.
Appendix A: HVAC Equipment Efficiency Tables.
Appendix B: Additional Information on Standards & Guidelines.
Resources.
Glossary.
Index.