Green Chemistry and Catalysis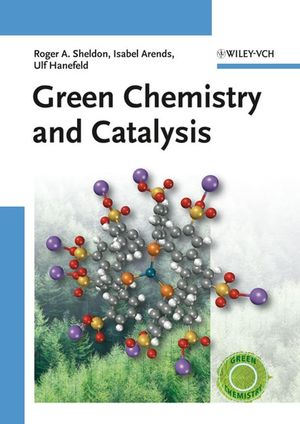 Green Chemistry and Catalysis
ISBN: 978-3-527-30715-9 April 2007 448 Pages
Description
This first book to focus on catalytic processes from the viewpoint of green chemistry presents every important aspect:

· Numerous catalytic reductions and oxidations methods
· Solid-acid and solid-base catalysis
· C-C bond formation reactions
· Biocatalysis
· Asymmetric catalysis
· Novel reaction media like e.g. ionic liquids, supercritical CO2
· Renewable raw materials

Written by Roger A. Sheldon -- without doubt one of the leaders in the field with much experience in academia and industry -- and his co-workers, the result is a unified whole, an indispensable source for every scientist looking to improve catalytic reactions, whether in the college or company lab.
Cannot be combined with any other offers.
Original Price:$554.00
Purchased together:$415.50
save $138.50
Table of contents
INTRODUCTION: GREEN CHEMISTRY AND CATALYSIS
E Factors and Atom Efficiency
The Role of Catalysis
The Development of Organic Synthesis
Catalysis by Solid Acids and Bases
Catalytic Reduction
Catalytic Oxidation
Catalytic C-C Bond Formation
The Question of Solvents: Alternative Reaction Media
Biocatalysis
Renewable Raw Materials and White Biotechnology
Enantioselective Catalysis
Risky Reagents
Process Integration and Catalytic Cascades
SOLID ACIDS AND BASES AS CATALYSTS
Solid Acid Catalysis
Solid Base Catalysis
Other Approaches
CATALYTIC REDUCTIONS
Heterogeneous Reduction Catalysts
Homogeneous Reduction Catalysts
Biocatalytic Reductions
CATALYTIC OXIDATIONS
Mechanisms of Metal-catalyzed Oxidations
Alkenes
Alkanes and Alkylaromatics
Oxygen-containing Compounds
Heteroatom Oxidation
Asymmetric Oxidation
CATALYTIC CARBON-CARBON BOND FORMATION
Enzymes for Carbon-Carbon Bond Formation
Transition Metal Catalysis
HYDROLYSIS
Hydrolysis of Esters
Hydrolysis of Amides
Hydrolysis of Nitriles
CATALYSIS IN NOVEL REACTION MEDIA
Two Immiscible Organic Solvents
Aqueous Biphasic Catalysis
Fluorous Biphasic Catalysis
Supercritical Carbon Dioxide
Ionic Liquids
Biphasic Systems with Supercritical Carbon Dioxide
Thermoregulated Biphasic Catalysis
CHEMICALS FROM RENEWABLE RAW MATERIALS
Carbohydrates
Chemical and Chemoenzymatic Transformations of Carbohydrates into Fine Chemicals and Chiral Building Blocks
Fats and Oils
Terpenes
Renewable Raw Materials as Catalysts
Green Polymers from Renewable Raw Materials
PROCESS INTEGRATION AND CASCADE CATALYSIS
Dynamic Kinetic Resolutions by Enzymes Coupled with Metal Catalysts
Combination of Asymmetric Hydrogenation with Enzymatic Hydrolysis
Catalyst Recovery and Recycling
Immobilization of Enzymes
EPILOGUE: FUTURE OUTLOOK
Green Chemistry: The Road to Sustainability
Catalysis and Green Chemistry
The Medium is the Message
Metabolic Engineering and Cascade Catalysis

Reviews
"...The book is very well referenced and illustrated and its layout is very well thought out and executed. It makes clear that catalysis, the bedrock of the petrochemical industry, will play an equally crucial role in the invention and reinvention of green processes."
Chemsitry World, 08/2007

"...The book is very well referenced and illustrated and its layout is very well thought out and executed."
Chemistry World, August 2007