Green Gadgets For Dummies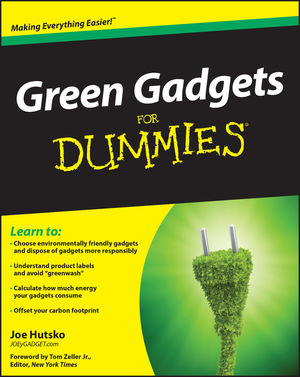 Green Gadgets For Dummies
ISBN: 978-0-470-52891-4 June 2009 360 Pages
Description
Save some green by going green with these environmentally friendly gadgets!
With concern for the future of our environment growing stronger and more serious every day, there has never been a better time to take a new approach to some of the most popular gizmos and gadgets on the market and learn how you can convernt to electronics that have minimal environmental impact.
Green gadgets encompass everything from iPods to energy-efficient home entertainment devices to solar laptop chargers and crank-powered gizmos. This helpful resource explains how to research green gadgets, make a smart purchasing decision, use products you already own in a more environmentally friendly way, and say goodbye to electronics that zap both energy and money.
Explore the environmental and financial benefits of green gadgets with this friendly reference
Discusses which gadgets save energy-and which ones create energy
Learn ways to offset your carbon footprint when you can't reduce consumption
Get tips for understanding products labels and avoiding "greenwash"
Discover how to calculate the energy and money your gadgets consume
Get moving and start living green with this informative guide to environmentally and wallet-friendly gadgets!
Note: CD-ROM/DVD and other supplementary materials are not included as part of eBook file.
Table of contents
Foreword.
Introduction.
Part I: Settling into a Green Gadget Mindset.
Chapter 1: Mother Nature's Green-Eyed View of Gadgets.
Chapter 2: Practicing Green Gadget Living.
Part II: Getting Green with Gadgets You Own.
Chapter 3: Saving Money (and the Planet) with Rechargeable Batteries.
Chapter 4: Maximizing Energy Savings for Your Portable Gadgets.
Chapter 5: Energy Savings All Around the House.
Part III: Minimizing Your Computer's Carbon Footprint.
Chapter 6: Your Computer's Energy Use.
Chapter 7: Reducing Energy Consumption in Windows.
Chapter 8: Conserving Power with Your Mac's Energy-Saver Settings.
Part IV: Acquiring Green Gadgets and Gear.
Chapter 9: Knowing the Difference Between Truly Green and Greenwash Hype.
Chapter 10: Choosing Green Mac and Windows Computers.
Chapter 11: Buying Green Mobile Phones and Handheld Gadgets.
Chapter 12: Getting Green Gadgets for on the Go.
Chapter 13: Adding Green Gadgets around the House.
Part V: Ridding Yourself of Gadgets the Green Way.
Chapter 14: Donating, Gifting, and Selling Unwanted Gadgets.
Chapter 15: Erasing Your Personal Information before Getting Rid of Gadgets.
Chapter 16: Recycling and Properly Disposing of Hopelessly Useless Gadgets.
Part VI: The Part of Tens.
Chapter 17: Ten Cool Green PC Peripherals and Accessories.
Chapter 18: Ten Green Gadget Designs.
Chapter 19: Ten Green Gadget Buying Tips.
Chapter 20: Ten Frequently Asked Questions about Green Gadgets.
Index.