Green Political Theory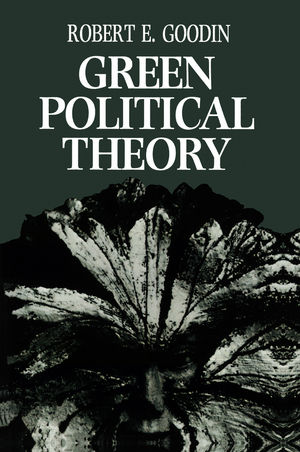 Green Political Theory
ISBN: 978-0-745-66670-9
Apr 2013, Polity
250 pages
Description
With their remarkable electoral successes, Green parties worldwide seized the political imagination of friends and foes alike. Mainstream politicians busily disparage them and imitate them in turn. This new book shows that 'greens' deserve to be taken more seriously than that.

This is the first full-length philosophical discussion of the green political programme. Goodin shows that green public policy proposals are unified by a single, coherent moral vision - a 'green theory of value' - that is largely independent of the `green theory of agency' dictating green political mechanisms, strategies and tactics on the one hand, and personal lifestyle recommendations on the other. The upshot is that we demand that politicians implement green public policies, and implement them completely, without committing ourselves to the other often more eccentric aspects of green doctrine that threaten to alienate so many potential supporters.
Preface.
Part I: What's New?:.
1. The Issues.
2. The Arguments.
3. The Organizations.
4. The Thesis.
Part II: A Green Theory of Value: .
5. The Good and the Valuable.
6. A Taxonomy of Theories of Value.
7. History and Process as Sources of Value.
8. Naturalness as a Source of Value.
9. Humanity and Nature.
10. Green Corollaries.
11. Green Heresies.
Part III: The Unity of the Green Programme:.
12. Single-issue Groups versus Catch-all Parties.
13. A Unified Moral Vision.
14. Claims of Consistency.
15. Brown Evasions.
16. Weighing Countervailing Values.
17. Compromising Green Values.
Part IV:.
18. Theories of Value and Theories of Agency.
19. Principles of Green Political Action.
20. Principles of Green Party Organization.
21. Principles of Green Political Structures.
22. Conclusion.
Part V: Conclusions:.
23. The Fate of Green Politics.
24. The Fate of the Earth.
Appendix: The Green Political Programme.
References.
Index.
'A critical reconstruction of green political thinking, crisply written and very accessible ... full of arguments that any green should think hard about.'
Onora O'Neill, Newnham College, Cambridge
'... A useful introduction to green literature. This book makes an invaluable contribution to the study and practice of green politics' Political Science
'Goodin's green theory of value is the impressive intellectual centrepiece of his book and it deserves a great deal of attention. No less important, though, is his radical distinction between value and agency ... Two substantial talking points are more than we get from most books, and I hope that this one is read widely.' Times Higher Education Supplement
'Goodin's elaboration of the green theory of value is courageous and challenging.' Political Quarterly
'This book scores highly for readability and analytical clarity. It brings a structure to green political thought that anyone studying the theoretical or practical problems of green politics would do well to consider.' Radical Philosophy
'Combines clear thinking with ecological commitment. Green Political Theory is a novel and thought provoking book.' Times Literary Supplement
* This is the first full-length treatment of green politics offering a philosophical approach while maintaining political orientation.
* Unlike many current affairs commentaries, Goodin provides a thorough theoretical basis for our understanding of green parties and movements.