Grief: The Mourning After: Dealing with Adult Bereavement, 2nd Edition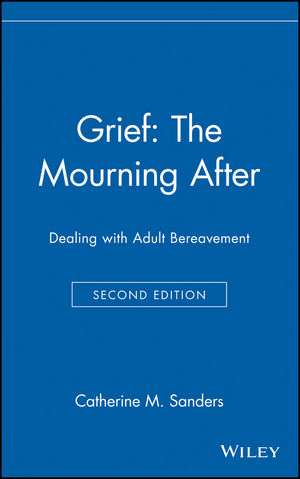 Grief: The Mourning After: Dealing with Adult Bereavement, 2nd Edition
ISBN: 978-0-471-12777-2
Nov 1998
336 pages
Description
Reviews from the First Edition. "Written with insight and sensitivity for people in all stages of grief and recovery, this book can be used as a resource for all caregivers, both professional and volunteer..It is essential reading for anyone engaged in bereavement counseling." --Oncology Nursing Forum "This book for caregivers provides a theoretical framework for understanding the process of bereavement and for stimulating further research." --An Annotated Bibliography on Death and Dying "The book offers clear descriptions of the grieving process, well-illustrated with case studies, and practical interventions for assisting the bereaved." --Journal of Palliative Care
BACKGROUND AND THEORETICAL CONSIDERATIONS.

Grieving.

Theoretical Foundations: The Evolution of Bereavement Theories.

Sanders' Integrative Theory of Bereavement.

PHASES OF BEREAVEMENT.

The First Phase: Shock--The Impact of Grief.

The Second Phase: Awareness of Loss.

The Third Phase: Conservation-Withdrawal.

The Fourth Phase: Healing--The Turning Point.

The Fifth Phase: Renewal.

THE MULTIDIMENSIONALITY OF GRIEF.

Personality Variables.

Social-Situational Variables.

Early Childhood Impact.

Death and the Family Constellation.

COMPLICATED GRIEF.

Suicide, Homicide, and AIDS-Related Death.

TYPES OF BEREAVEMENT.

The Death of a Child.

The Death of a Spouse.

The Death of a Parent.

RITUALS OF LOSS.

Rites of Passage.

PRACTICAL APPLICATIONS.

Therapeutic Approaches.

Care of the Caregiver.

The Lessons of Grief.

References.

Index.