Grilling For Dummies, 2nd Edition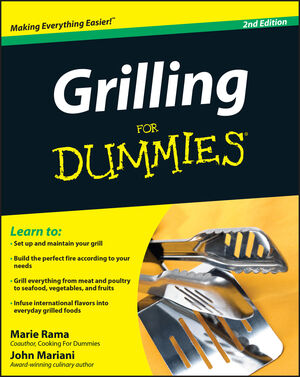 Grilling For Dummies, 2nd Edition
ISBN: 978-0-470-50412-3 March 2009 384 Pages
Description
Grilling For Dummies, 2nd Edition provides readers with the how-to and what-to cook information they need to make their grilling season hot. It also offers tips sure to benefit grillers of all levels, including basic information on equipment; grill setup and maintenance; new grilling techniques for meat, poultry, seafood, and vegetables; and new and updated grilling recipes.
Table of contents
Introduction.
Part I: Getting Ready to Show the Grill Who's Boss.
Chapter 1: Mastering Grill-Speak.
Chapter 2: Buying the Grill of Your Dreams (and Accessories to Boot).
Chapter 3: To Build a Fire.
Part II: Adding Spice to Your Life.
Chapter 4: Peeking Inside the Grilling Guru's Pantry.
Chapter 5: Infusing Foods with Flavor: Marinades, Oils, and Rubs.
Chapter 6: The Saucy Side of Grilling.
Part III: For the Fanatics of the Classics.
Chapter 7: Bun-Lovin' Burgers, Sausages, and Hot Dogs.
Chapter 8: Swordplay: Grilling Kebabs and Satay.
Chapter 9: Maybe Messy, Definitely Delicious: Ribs Worth Drooling Over.
Chapter 10: Pair a Rotisserie with a Grill? Oh Yes, You Can.
Part IV: Grilling Everything Under the Sun.
Chapter 11: Beef: It's What Grills Were Made For.
Chapter 12: Pork — The King of Barbecue.
Chapter 13: Savoring the Peppery Meat of the Middle East: Lamb.
Chapter 14: Birds of a Feather.
Chapter 15: She Grills Seafood by the Seashore.
Chapter 16: Not for Vegetarians Only: Vegetables and Side Dishes.
Chapter 17: Grill to Go: Sandwiches, Pizzas, and Other Finger Foods.
Chapter 18: Sweets Can Take the Heat, Too (And Cocktails Cool and Refresh).
Part V: The Part of Tens.
Chapter 19: The Ten Commandments of Grilling.
Chapter 20: Ten of Our Favorite Barbecue Joints.
Appendix: Metric Conversion Guide.
Index.