Group Consensus and Minority Influence: Implications for Innovation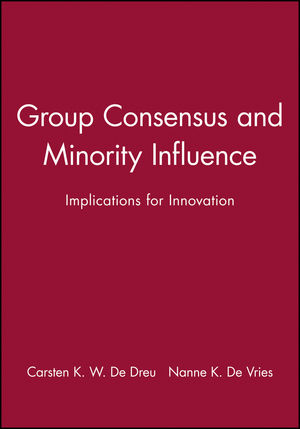 Group Consensus and Minority Influence: Implications for Innovation
ISBN: 978-0-631-21232-4
May 2001, Wiley-Blackwell
340 pages
Description
Written by leading social psychologists from around the world, this timely and innovative book brings together different perspectives on the way people influence each other to achieve consensus, to innovate, or do both.
Notes on Contibutors.
Acknowlegements.
1. Group Consensus and Minority Influence: Introduction and Overview. (Nanne K. De Vries and Carsten K.W. De Dreu).
2. Afterthoughts on Afterimages: A Review of the Afterimage Paradigm in Majority and Minority Influence Research. (Robin Martin and Miles Hewstone).
3. Mere Consensus Effects in Minority and Majority Influence. (Hans-Peter Erb and Gerd Bohner).
4. Mediators of Minority Social Influence: Cognitive Processing Mechanisms Revealed Through a Persuasion Paradigm. (Gordon B. Moskowitz and Shelly Chaiken).
5. Majority and Minority Influence: A Single Process Self-Categorization Analysis. (Barbara David and John C. Turner).
6. Social Influence, Social Identity, and In-group Leniency. (William D. Crano).
7. Self-Persuasion: An Alternative Paradigm for Investigating Majority and Minority Influence. (Ernestine Gordijn, Nanne K. De Vries and Tom Postmes).
8. Conflicts and Social Influences in Hypothesis Testing. (Fabrizio Butera and Gabriel Mugny).
9. The Impact of Shared Representations on Minority Influence in Freely Interacting Groups. (Christine M. Smith, R. Scott Tindale and Elizabeth M. Anderson).
10. Is it What One Says or How One Says it? Style vs. Substance from an SDS Perspective. (Norbert L. Kerr).
11. Minority Influence in Political Decision Making Groups. (John M. Levine and Juliet Kaar).
12. Minority Influence in Organizations: Its Origins and Implications for Learning and Group performance. (Carsten K.W. De Dreu and Bianca Beersma).
13. Culture and Minority Influence: Effects on Persuasion and Originality. (Yee Ng and Linn Van Dyne).
Author Index.
Subject Index.
"the present volume is a good representation of the state of the art when it comes to minority influence and group consensus" Richard M. Sorrentino, University of Western Ontario, APA Review of Books, December 2003 <!--end-->


One of the first books to integrate and combine insights into consensus and innovation.


The truly international team of authors are all well-known and highly regarded.


Straddles both the academic and professional market.