Growth Factors and Psychiatric Disorders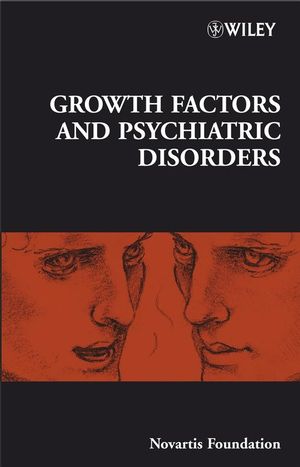 Growth Factors and Psychiatric Disorders
ISBN: 978-0-470-51604-1 May 2008 258 Pages
Description
The recent identification of susceptibility genes for schizophrenia, depression and learning and memory dysfunction suggest that psychiatric disorders may be influenced by a small number of genes with multiple actions. This is the first book to investigate the role of growth factors in these disorders, which should provide clues to the underlying biochemical mechanisms. For example, recent studies have substantiated the provocative finding that neuregulin 1 (NRG1)is a candidate gene for schizophrenia. Neuregulin and its receptors, the ErbB tyrosine kinases, are essential for development of the cardiovascular and nervous systems. Lack of NRG1 function may be involved in dysregulation of synaptogenesis and synaptic plasticity in the adult mediated through glutamate receptor function. Polymorphisms for BDNF (brain-derived neurotrophic factor) have also been implicated in the pathogenesis of schizophrenia. BDNF is a prevalent neurotrophic factor that plays an important role in the pathophysiology of depression, bipolar disease and other psychiatric disorders. Other topics addressed in this book include neuroplasticity and neurotrophic factors, signal transduction by neurotrophins, intracellular trafficking of growth factors, trophic factors and cognitive functions, neurotrophins and depression, and pharmacological treatments of schizophrenia.
Symposium on Growth factors and psychiatric disorders, held at the Novartis Foundation,
London, 20–22 March 2007.
Editors: Derek J. Chadwick (Organizer) and Jamie Goode.
This symposium is based on a proposal made by Moses Chao.
Moses Chao Chair's introduction.
Daniel C. Javitt Phenomenology, aetiology and treatment of  schizophrenia.
Discussion.
Jonathan Flint, Sagiv Shifman, Marcus Munafo and Richard Mott Genetic variants in major depression.
Discussion.
Eero Castrén and Tomi Rantamäki Neurotrophins in depression and antidepressant effects.
Discussion.
Jinbo Fan and Pamela Sklar Genetics of bipolar disorder: focus on BDNF Val66Met polymorphism.
Discussion.
David A. Talmage Mechanisms of neuregulin action.
Discussion.
General discussion I.
H. Akil, S. J. Evans, C. A. Turner, J. Perez, R. M. Myers, W. E. Bunney, E. G. Jones, S. J. Watson and other members of the Pritzker Consortium The fibroblast growth factor family and mood disorders.
Discussion.
Jay N. Giedd, Rhoshel K. Lenroot, Philip Shaw, Francois Lalonde, Mark Celano, Samantha White, Julia Tossell, Anjene Addington and Nitin Gogtay Trajectories of anatomic brain development as a phenotype.
Discussion.
Bai Lu and Keri Martinowich Cell biology of BDNF and its relevance to schizophrenia.
Discussion.
Enrico Tongiorgi and Gabriele Baj Functions and mechanisms of BDNF mRNA trafficking.
Discussion.
Amar Sahay and René Hen Hippocampal neurogenesis and depression.
Discussion.
Andrés Buonanno, Oh-Bin Kwon, Leqin Yan, Carmen Gonzalez, Marines Longart, Dax Hoffman and Detlef Vullhorst Neuregulins and neuronal plasticity: possible relevance in schizophrenia.
Discussion.
Zhe-Yu Chen, Kevin Bath, Bruce McEwen, Barbara Hempstead and Francis Lee Impact of genetic variant BDNF (Val66Met) on brain structure and function.
Discussion.
General discussion II.
D. Malaspina, M. Perrin, K. R. Kleinhaus, M. Opler and S. Harlap Growth and schizophrenia: aetiology, epidemiology and epigenetics.
Discussion.
Luiz M. Camargo, Qi Wang and Nicholas J. Brandon What can we learn from the disrupted in schizophrenia 1 interactome: lessons for target identification and disease biology?
Discussion.
Michael Spedding and Pierre Gressens Neurotrophins and cytokines in neuronal plasticity.
Discussion.
Moses Chao Closing remarks.
Index of contributors.
Subject index.