Growth and Profitability: Optimizing the Finance Function for Small and Emerging Businesses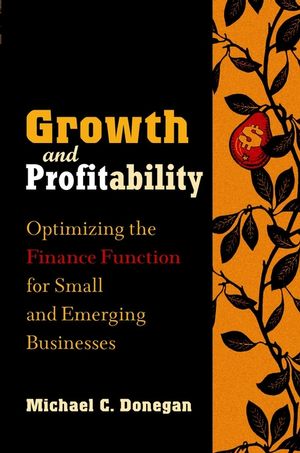 Growth and Profitability: Optimizing the Finance Function for Small and Emerging Businesses
ISBN: 978-0-471-42675-2
Oct 2002
258 pages
Product not available for purchase
Description
Praise for Growth and Profitability
"Finally, a book that fits me and my business! Growth and Profitability did what an army of consultants could not do. . . . demystify the finance and accounting aspect of my business. This is a must-read for anyone with a small business or for anyone planning to start one."
-- Mandana Sheybani
CEO and Founder
Timeless Carpets Co.
"This is not the typical long on the analysis and short on the practical application treatise on finance and accounting. Geared toward the novice business owner and those already experienced and informed, Growth and Profitability is provocative, lively, and informative. After reading how a customized finance strategy benefits the organization, business owners and finance professionals will be prepared to make key value judgments regarding finance structure clearly and with precision."
-- George Maso Jones, PhD
Director, International Press Information Agency
former WTO Agenda advisor and World Bank consultant
"Michael Donegan provides an insightful look at the strategic role of the finance function, from a two-person start-up company through a multimillion-dollar corporation. He has mapped out a straightforward process to build a world-class, IT-enabled strategic finance organization."
-- Tom Shea
President
UpStream Software
"Laying a solid foundation based on pertinent information is critical for success in today's dynamic marketplace. Achieving success requires companies to be nimble, harnessing data that is essential to decision-making. Michael Donegan provides a blueprint to building the financial infrastructure needed to drive growth and profitability in a measured and sustainable fashion."
-- Alex J. Abreu
Managing Director
Sr. Client Manager, Financial Strategies Group
Bank of America
Chapter 1: DOING BUSINESS IN TODAY'S ENVIRONMENT.

Objective.

What Is the Perception of Finance and Accounting?

Defining Small and Emerging Businesses.

Why Is the Business Owner in Business?

Data Needs.

Going from Day to Day to Long-term Strategy.

Dealing with the Business Environment.

Going Public.

Regulatory Requirements.

Doing Business in Foreign Countries.

Litigation.

Technology Needs of Vendors and Customers.

Employee Needs.

Strikes.

Natural Disasters.

Ten Questions.

Final Thoughts.

Chapter 2: FINANCE FUNCTION DEFINED.

Finance Function in Action.

Defining the Finance Function.

Component Parts.

Traditional Perception of the Finance Function.

Need for Integration into Operations.

Strength and Scalability.

Final Thoughts.

Chapter 3: WHY STRATEGIZE?

Strategizing in All the Right Places.

Benefits of Strategizing.

Initiatives Shaping the Finance Organization.

Scope of Strategizing.

When Does Strategizing Begin to Count?

Key Dependencies.

Initiating the Culture of Strategy.

The Future: Ready or Not, Here It Comes.

Final Thoughts.

Chapter 4: MULTILEVEL APPROACH.

Initiating the Finance Strategy.

Assessing Needs.

Tier 1 Considerations: Life Cycle.

Tier 2 Considerations: Data Customers.

Tier 3 Considerations: Infrastructure.

Upper-Tier Considerations.

Tier 4 Considerations: Optimizing the Balance Sheet.

Tier 5 Considerations: Optimizing Profit and Loss.

Final Thoughts.

Chapter 5: ANALYZING DATA CUSTOMERS.

Why Analyze Data Customers?

Defining Data Customers.

Evaluating Data Customers.

Anticipating Data Customer Needs.

Linking Data Customer Needs to Finance Strategy.

Final Thoughts.

Chapter 6: DATA FLOW PROCESS.

Role of Processes.

Data Flow Ecosystem.

Evaluating Current Processes and Conceptualizing Future Processes.

Integrating Data Flow Process with the Business.

Development with the Rest of Infrastructure.

Final Thoughts.

Chapter 7: INVESTIGATING INFORMATION SYSTEMS.

Information Systems Considerations in the Multilevel Approach.

Maintaining the High-Level Vision for Strategizing.

Initial Considerations.

Planning.

Implementing Systems.

Up and Running: Maintenance.

Final Thoughts.

Chapter 8: FINANCIAL REPORTING.

Understanding the Need to Report Financial Data.

Employing Accounting Methodologies to Serve Current and Future Needs.

Creating Models for Internal Analysis and Measurement.

Issues in Creating Financial Statements.

Maintaining Good Reporting.

Final Thoughts.

Chapter 9: WRITING THE STRATEGY DOCUMENT.

Purpose of Defining/Documenting the Finance Strategy.

Preparing to Write the Document.

Composing the Strategy Document.

Putting the Document to Use.

Evaluating Performance.

Enabling Future Development.

Final Thoughts.

Appendix: FINANCE STRATEGY: DOWNEY INTERIORS.

Index.