Guide to Effective Staff Development in Health Care Organizations: A Systems Approach to Successful Training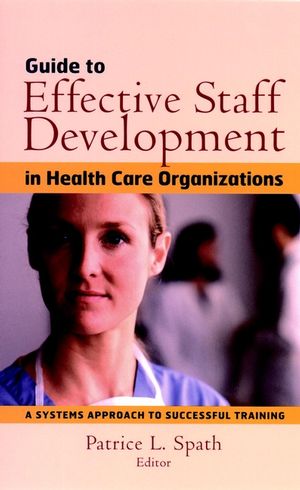 Guide to Effective Staff Development in Health Care Organizations: A Systems Approach to Successful Training
ISBN: 978-0-787-95874-9 January 2002 Jossey-Bass 264 Pages
Description
In Guide to Effective Staff Development in Health CareOrganizations, Patrice L. Spath-- a national authority on healthcare training-- and a stellar panel of health care experts offerhospital administrators and managers a variety of techniques thatthey can implement to provide cost-efficient staff orientation,training, and continuing education. This book acts as a field guidefor health care executives who must make informed decisions aboutwhich staff trainings and education strategies are best for theirorganizations. A comprehensive resource for health care executives,Guide to Effective Staff Development in Health Care Organizations
* Shows how to establish educational and training priorities
* Offers a model for integrating all facets of staff education andperformance evaluation
* Summarizes the most significant health care training issues
* Includes information and tips on selecting training methods
* Presents adult learning strategies
* Offers strategies for measuring the value of training
Buy Both and Save 25%!
Original Price:$145.00
Purchased together:$108.75
save $36.25
Cannot be combined with any other offers.
Buy Both and Save 25%!
Original Price:$159.00
Purchased together:$119.25
save $39.75
Cannot be combined with any other offers.
Tables, Figures, and Exhibits.

Foreword: James B. Conway.

Preface.

The Editor.

The Contributors.

Part One: The Learning Imperative.

1. Building the Context for Learning: An Executive Priority (Anthony J. DiBella).

2. An Organizational Model for Continuous Learning (Kathleen J. Heery).

3. The Learning Transformation Process ina Health Care System (Diane Boynton, Donald C. Sibery).

Part Two: Training Issues.

4. Training Challenges in Health Care Organizations(Connie E. Kuykendall, Sally Zuel).

5. Selecting Appropriate Training Methods (Brenda I. Mygrant, Mary Carole McMann).

6. Training the Adult Learner in Health CareOrganizations (Donna J. Slovensky, Pamela E. Paustian).

7. Measuring the Organizational Impact ofTraining Programs (Richard J. Wagner, Robert Weigand).

8. Making the Most of Your Training Dollar (Patrice L. Spath).

Part Three: Training Solutions: Case Studies.

9. Nurse Scrub Training Program DecreasesSurgery Costs (Christina Dempsey).

10. Web-Based Training Expands Coding Educationin a Large Health Care System (Gloryanne Bryant, Claire R. Dixon-Lee).

11. On-Target Education Program Meets TrainingNeeds of Surgical Services (Alice T. Speers, Karen L. Zaglaniczny, Christine S. Zambricki).

12. Education Collaborative Augments Staff Trainingin Northern California Hospitals (Rebecca Petersen).

Glossary: The Language of Learning.

Index.