Guide to LEED 2009 Estimating and Preconstruction Strategies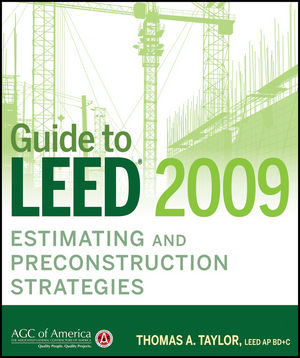 Guide to LEED 2009 Estimating and Preconstruction Strategies
ISBN: 978-1-118-03844-4
Dec 2010
256 pages
Description
This guide walks the reader step by step through the LEED 2009 for New Construction process, offering advanced techniques for estimating the actual costs, in time and money, for building green. It serves as an essential primer to price-assessment strategies for high-performance commercial and institutional projects, which include office buildings, high-rise residential buildings, government buildings, recreational facilities, manufacturing plants, and laboratories. Written by an author with more than twenty years of green construction experience on more than 80LEED registered or certified projects, the book provides real-world case studies used to demonstrate the techniques and concepts revealed in the book, covers project documentation, and provides strategies to help the reader understand the real costs and scheduling implications associated with sustainable building.
PART I Introduction.
CHAPTER 1 Establishing Parameters.
CHAPTER 2 The LEED Rating System.
CHAPTER 3 Before You Start.
CHAPTER 4 LEED Process.
CHAPTER 5 Clarify Your Services.
PART II LEED 2009 and the Contractor.
CHAPTER 6 Sustainable Sites.
CHAPTER 7 Water Efficiency.
CHAPTER 8 Energy and Atmosphere.
CHAPTER 9 Materials and Resources.
CHAPTER 10 Indoor Environmental Quality.
CHAPTER 11 Innovation in Design.
PART III Case Studies.
CHAPTER 13 Case Studies.
Index.