Guided Inquiry Experiments for General Chemistry: Practical Problems and Applications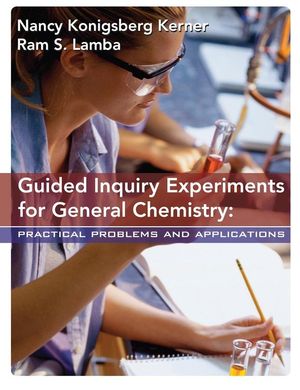 Guided Inquiry Experiments for General Chemistry: Practical Problems and Applications
ISBN: 978-0-471-69842-5
Oct 2007
436 pages
Description
Inquiry Experiments for General Chemistry: Practical Problems and Applications is a lab manual designed for students in introductory chemistry courses.  The manual is the result of several projects funded primarily by the National Science Foundation and developed chiefly at the University of Puerto Rico at Cayey, Inter American University of Puerto Rico, Metropolitan Campus, and the University of Michigan at Ann Arbor.  The experiments have been thoroughly tested with undergraduate non-chemistry and non-science majors as well as with pre-med, engineering, science (including chemistry), and future teachers majors.  Successful use of the experiments has occurred outside the institutions of origin including secondary institutions, community colleges and universities.
Unit 1. Scientific Method.
Unit 2. Stoichiometry.
Unit 3. Solutions, Atomic Structure, and Periodicity.
Unit 4. Reactivity and Periodicity.
Unit 5. Gases.
Unit 6. Thermochemistry.
Unit 7. Structure and Property Relationships.
Unit 8. Equilibrium.
Unit 9. Acids and Bases.
Unit 10. Oxidation and Reduction.
Unit 11. Electrochemistry.
Unit 12. Kinetics.
Approach encourages scientific thinking which closely reflects what occurs in scientific research

Stresses the skills associated with the processes of science that research scientists' use
Enhances students' thinking skills and understanding of key chemical concepts within a practical problem-solving context
Based on accepted educational theory that students construct their knowledge from involvement, experience, and models
Details are streamlined in later experiments to promote active learning