Guided Inquiry Experiments for General Chemistry: Practical Problems and Applications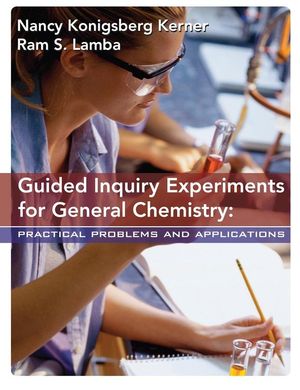 Guided Inquiry Experiments for General Chemistry: Practical Problems and Applications
ISBN: 978-0-471-69842-5 October 2007 436 Pages
Description
Inquiry Experiments for General Chemistry: Practical Problems and Applications is a lab manual designed for students in introductory chemistry courses.  The manual is the result of several projects funded primarily by the National Science Foundation and developed chiefly at the University of Puerto Rico at Cayey, Inter American University of Puerto Rico, Metropolitan Campus, and the University of Michigan at Ann Arbor.  The experiments have been thoroughly tested with undergraduate non-chemistry and non-science majors as well as with pre-med, engineering, science (including chemistry), and future teachers majors.  Successful use of the experiments has occurred outside the institutions of origin including secondary institutions, community colleges and universities.
UNIT 1. SCIENTIFIC METHOD.
1. HOW LONG CAN A BUBBLE LAST? 2. ARE ALL PENNIES THE SAME?
UNIT 2. STOICHIOMETRY.
1. HOW MUCH HYDROGEN? 2. HOW MUCH IS TOO MUCH?
UNIT 3. SOLUTIONS, ATOMIC STRUCTURE , AND PERIODICITY.
1.  WHAT MAKES A SOLUTION COLORED OR COLORLESS? 2.  ARE THERE PROPERTY PATTERNS? 3.  WHAT FACTORS AFFECT COLOR INTENSITY?
UNIT 4. REACTIVITY AND PERIODICITY.
1. WHAT FACTORS AFFECT THE SOLUBILITY OF IONS? 2. CAN TOXIC IONS BE REMOVED FROM WATER BY PRECIPITATION?
UNIT 5. GASES.
1. HOW DO GAS VOLUMES CHANGE AS WE ASCEND AND DESCEND?
UNIT 6. THERMOCHEMISTRY
1. WHICH SALTS MAKE GOOD COLD PACKS AND HOT PACKS? 2.  HOW IS HEAT MEASURED INDIRECTLY?
UNIT 7. STRUCTURE AND PROPERTY RELATIONSIPS
1. DO LIKE REPEL OR ATTRACT?
UNIT 8. EQUILIBRIUM
1. HOW CAN A CHEMICAL EQUILIBRIUM BE SHIFTED? 2. HOW DO SOAPS COMPARE IN CONTROLLING MALODOR?
UNIT 9. ACIDS AND BASES.
1. IS IT ACIDIC, BASIC, OR NEUTRAL? 2.  ARE ACID-BASE PROPERTIES PREDICTABLE IN CONSUMER PRODUCTS?
UNIT 10. OXIDATION AND REDUCTION.
1. DO CHEMICAL DUPLICATE THE EFFECTS OF A
BATTERY
? 2. WHICH METAL IS APPROPRIATE FOR FOOD AND BEVERAGE STORAGE?
UNIT 11. ELECTROCHEMISTRY.
1. WHICH METALS PROVIDE THE BEST VOLTAGE? 2. WHY DID MY WATCH STOP SUDDENLY? 3. WHY IS A "HARLEY' CHROME PLATED?
UNIT 12. KINETICS
1. HOW LONG WILL IT TAKE?
Experiments are sorted into Units based on topics common to most general chemistry texts