Guidelines for the Management of Change for Process Safety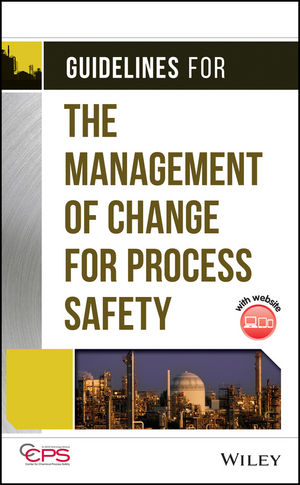 Guidelines for the Management of Change for Process Safety
ISBN: 978-1-118-20993-6 September 2011 200 Pages
Description
Guidelines for the Management of Change for Process Safety
provides guidance on the implementation of effective and efficient Management of Change (MOC) procedures, which can be applied to improve process safety. In addition to introducing MOC systems, the book describes how to design an initial system from scratch, including the scope of the system and the applications over a plant life cycle and the boundaries and overlaps with other process safety management systems.
Note: CD-ROM/DVD and other supplementary materials are not included as part of eBook file.
Table of contents
Preface.
Acknowledgements.
Items on the CD Accompanyting Those Guidelines.
List of Tables.
List of Figures.
Acronyms and Abbreviations.
Glossary.
Executive Summary.
1 Introduction.
2 Relationship To Risk- Based Process Safety.
3 Designing An MOC System.
4 Devolping An Moc System.
5 Implementing and Operating An Moc System.
6 Monitoring and Improving An Moc System.
7 The Future of Change Management.
Appendix A: Examples of Replacements- In- Kind and Changes for Various Classes of Change.
Appendix B: MOC System Design Structure.
Appendix C: Examples of MOC System Procedure Work Flow Charts and MOC Review Documentation Forms.
Appendix D: Electronic MOC Applications.
Appendix E: Example MOC System Audit Checklist.
Appendix F: Example MOC Performance and Efficiency Metrics.
Appendix G: Common MOC Problems and Proposed Solutions.
References.
Index.