Guilt Trip: From Fear to Guilt on the Green Bandwagon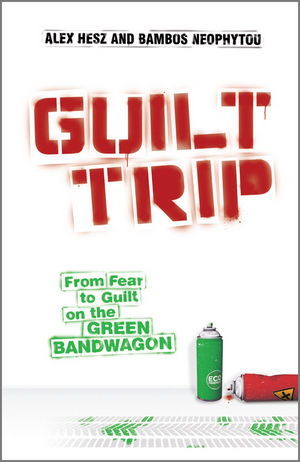 Guilt Trip: From Fear to Guilt on the Green Bandwagon
ISBN: 978-0-470-74622-6
Nov 2009
284 pages
Description
'CSR', 'Green', 'Ethics', 'Fair Trade', 'Organic' are all buttons that marketers are keen to push right now to get us to engage us with their products. Why? Because, amongst many, these issues hit a nerve and our consciences can be comforted in the knowledge we are purchasing for the greater good.

Guilt Trip talks to the history of the marketing communications story, analyses the journey of traditional advertising techniques past and present and tackles the exploitation of guilt and fear.

The authors talk with leading marketers and advertising agency heads, politicians and consumers, doctors and historians to explore the pivotal role played by the Green phenomenon within this transformation. Going further, it asks how companies, politicians and individuals will react to this emerging but irrevocable change, and what will be the fate of those who react too slowly, or ignore it altogether.
Introduction – Idiots and Infants.
Chapter 1 An Irrational Animal.
1.1 The Sneetches and Other Parables.
1.2 A Rose by Any Other Name.
1.3 'Tis the Season for Extraordinary Mass Acquisition.
Chapter 2 The Necessary Lie.
2.1 What is Marketing?
2.2 A Brief History of Shouting – Part 1.
2.3 A Brief History of Shouting – Part 2.
2.4 Omnipotent Slaves.
Chapter 3 You Can't Handle the Truth.
3.1 Keep It Simple, Stupid.
3.2 An Extraordinary Addiction.
3.3 The Tuna that won't Turn Pink in the Can.
Chapter 4 Guilt is the New Fear.
4.1 The Pet Goat, and Other Frightening Stories.
4.2 Culpability Killed the Cat.
4.3 The Big Green Button.
Chapter 5 Shades of Green.
5.1 A Sweet Truth, or, A-Till-a the Un-healthy.
5.2 A Token of Appreciation.
5.3 The Arabian Babbler and Bob Dylan.
Chapter 6 Reparations.
6.1 Ask not . . . .
6.2 It's OK to be Bad.
6.3 What Now?
Index.
'A provocative, vibrant, panoramic review of the way we live -and shop- today. Hesz and Neophytou pose fundamental questions about the role of fear and guilt in modern consumption and marketing.'  - Jim Carroll, Chairman, Bartle Bogle Hegarty
'The biggest economic downturn in our lifetimes has clearly highlighted the limitations of the plc model that has been the basis of our western economy for generations. However, this thought-provoking, well-written analysis shows that there are viable sustainable alternatives, which should be considered as we move to a post recession world.' - Patrick Allen, Marketing Director, The Co-operative Group  
'A hugely entertaining analysis that cuts through the rhetoric and offers new insights into the causes and cure for greenwash.' – Mark Line, Executive Chairman, Two Tomorrow's Group