Guitar Lessons: A Life's Journey Turning Passion into Business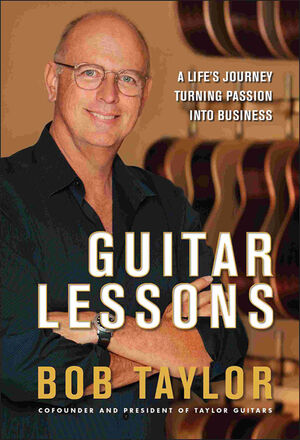 Guitar Lessons: A Life's Journey Turning Passion into Business
ISBN: 978-1-118-03868-0
Feb 2011
272 pages
Description
The inside story of the founding and growth of Taylor Guitars, one of the world's most successful guitar manufacturers



Bob Taylor mixes the details of his experience as a tradesman and cofounder of Taylor Guitars, a world-famous acoustic and electric guitar manufacturer, with philosophical life lessons that have practical application for building a business.
From the "a-ha" moment in junior high school that inspired his very first guitar, Taylor has been living the American dream, crafting quality products with his own hands and building a successful, sustainable business. In Guitar Lessons, he shares the values that he lives by and that have provided the foundation for the company's success.
Be inspired by a story of guts and gumption, an unwavering commitment to quality, and the hard lessons that made Taylor Guitars the company it is today.
Chapter 1 Life's Little Lessons.
Chapter 2 My Very First Guitar.
Chapter 3 Inspiration.
Chapter 4 The American Dream.
Chapter 5 On Our Own.
Chapter 6 Early Successes and Early Failures.
Chapter 7 Sweat Equity.
Chapter 8 More Bad News.
Chapter 9 On the Move.
Chapter 10 Making Your Case.
Chapter 11 We're All in this Together.
Chapter 12 Embracing Technology.
Chapter 13 Finding our Place.
Chapter 14 Gaining Traction.
Chapter 15 Building a Brand.
Chapter 16 Innovation.
Chapter 17 Artists and Such.
Chapter 18 The Luck of the Third Owner.
Chapter 19 In Ten Years We'll Be Glad We Did.