Guppy Trading: Essential Methods for Modern Trading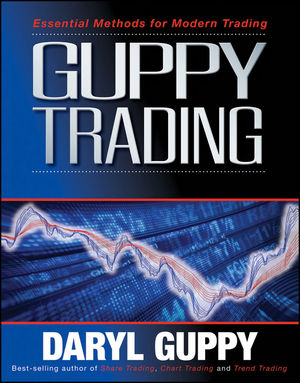 Guppy Trading: Essential Methods for Modern Trading
ISBN: 978-1-742-46870-9 August 2011 Wrightbooks 464 Pages
Description
A compilation of the very best of Daryl Guppy
Daryl Guppy has been one of Australia's foremost experts on share trading and charting for almost 20 years. His first book, Share Trading, is still a must-read for people wanting to learn about the market and is widely accepted as the best-selling trading book ever in Australia.
Guppy Trading contains detailed analysis of many topics, including:
making effective trades based on news events and informed trading
advanced application of the Guppy Multiple Moving Average to assess the true strength of a trend
how to establish and improve trade entry, exit and stop loss points in volatile markets
effective trading of international markets
safely integrating derivatives to boost portfolio returns.
Guppy Trading contains 23 of the most enduring and important chapters from Guppy's earlier books, completely revised, and combines them with 10 entirely new chapters. These new chapters detail new trading methods and instruments that have been developed to create additional opportunities and ensure survival in interconnected modern markets. This comprehensive compendium is critical reading for traders looking to maximise their returns.
Introduction.
Part I: Modern trading world.
1 Different sea — same sharks.
2 Behavioural finance for crowds.
3 Self-inflicted injuries.
4 Modern market education.
5 Rules to stand by.
Part II: Analysis.
6 Easy to learn, hard to master.
7 Building stock pools.
8 Divergence in a smile.
9 Market trend foundations.
10 Trading with the GMMA.
11 Trend Volatility Line analysis.
12 Dark side trading analysis.
13 Past into future tense.
14 Out of the box.
15 Go straight to profit.
16 Patterns of opportunity.
Part III: Managing risk.
17 Breaking down risk.
18 Frightened money.
19 Risk airbags.
20 Trade shy.
Part IV: Trading methods.
21 Counting back the profit.
22 Traders ATR.
23 Getting ahead of the curves.
24 Modern tape reading.
25 Testing shorts.
26 Patterns of informed trading.
27 Takeover arbitrage.
28 Indexing the news.
29 Derivative gold.
Part V: Beating the world.
30 International investor protection.
31 Capturing the world.
32 Global trading and analysis.
33 The A380 approach to Red Cliff.
Acknowledgements.
Publisher's note.
Index.