HDR Photography Photo Workshop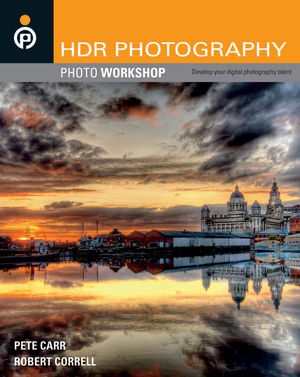 HDR Photography Photo Workshop
ISBN: 978-0-470-41299-2
Jun 2009
304 pages
Product not available for purchase
Description
Expand your artistic vision with HDR photography
By artfully blending multiple exposures, you can create images with incredible detail, photos that mimic fine paintings, surrealistic imagery — once you understand the process, your options are virtually endless. This book explains the tools you need to get started and how to create high dynamic range (HDR) images. You learn to evaluate a scene, photograph different subjects for the best HDR results, gain skill with software, and begin a lifetime of exploration.
See how HDR compensates for the camera's limited ability to record the visible range of light

Examine the necessary camera features and accessories

Learn to process HDR images using Photomatix and Photoshop® Elements

Learn to create HDR photos from single exposures

Experiment with landscapes, cityscapes, interior shots, black-and-white, nighttime photos, and more
Save 15% on Photomatix software when you buy this book! Details inside!
Acknowledgments.
Introduction.
CHAPTER 1 Dynamic Range and Digital Photography.
Dynamic Range.
Wrangling with Exposure.
Single-Exposure Limitations.
Traditional Solutions.
The HDR Answer.
CHAPTER 2 Gearing Up.
Focusing on the Photos.
Camera Features.
Useful Accessories.
Lenses and HDR.
CHAPTER 3 The Art of HDR.
HDR Styles.
Selecting a Scene.
Setting Up.
Configuring the Camera.
Metering.
Taking the Photos.
Processing Photos into HDR.
Alternate Processing Paths.
Alternate Approach: Single-Exposure HDR.
Additional Processing.
CHAPTER 4 Landscapes.
Evaluating Landscapes.
Capturing Great Skies.
Creating Panoramas.
CHAPTER 5 Architecture and Cityscapes.
Capturing Architecture.
Capturing Cityscapes.
Urban Contexts.
Old Buildings.
CHAPTER 6 Interiors.
Understanding Interior Spaces.
Shooting Large Interiors in HDR.
HDR and Smaller Spaces.
Mixing It Up.
CHAPTER 7 Black and White.
Thinking in Black and White.
Converting HDR to Black and White.
Dodging and Burning.
Toning.
CHAPTER 8 People and HDR.
Photographing People.
Working With and Without Flash.
Blending HDR with Normal Exposures.
CHAPTER 9 Street Photography.
Street Photography.
Camera Settings.
Wide-Angle Street Photography.
Mid-Range Zoom Photography.
Using a Compact Digital Camera.
Techniques.
CHAPTER 10 More Creative Possibilities.
HDR at Dusk.
Vehicles.
Cross–Processing.
APPENDIX A Web Resources.
Glossary.
Index.