HM-181 and HM-126F: A Compliance Guide for DOT's New Hazmat Transportation Regulations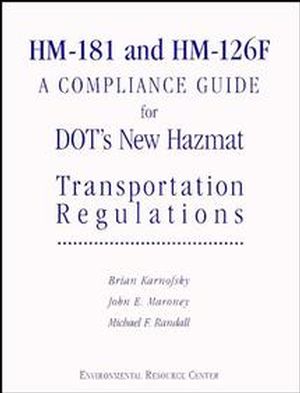 HM-181 and HM-126F: A Compliance Guide for DOT's New Hazmat Transportation Regulations
ISBN: 978-0-471-28844-2
Jun 1994
432 pages
Description
This book provides in depth coverage of the Department of Transportation's Hazardous Materials Regulations. In plain, concise language, it covers the background of the new rules, their relation to existing rules, provisions for making the transition to the new regulatory system, and procedures for determining how to describe, package, mark, label, and handle materials in connection with shipping.
Introduction to the New Requirements.

DOT Requirements for Training of Hazmat Employees.

What is a Hazardous Material?

Container Selection and Management.

Container Labeling and Marking.

DOT Shipping Papers.

Vehicle Loading, Unloading, and Placarding.

Emergency Response.

Motor Carrier Responsibilities.

Training Exercises and Examinations.

Appendices.

Index.