HTML Complete, 3rd Edition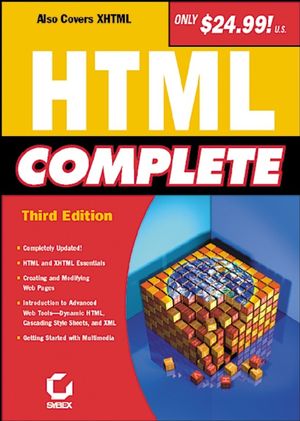 HTML Complete, 3rd Edition
ISBN: 978-0-782-14209-9
Apr 2003
1008 pages
Product not available for purchase
Description
HTML is the building block for intranets and the web. XHTML (Extensible Hypertext Markup Language) is the newest version of HTML; it brings the functionality of XML to HTML so that developers can easily use their content on a multitude of platforms. A thorough working knowledge of HTML and XHTML remains critical to effective web content development.
Introduction.
Part I: Introducing HTML.
Chapter 2: Getting Acquainted with HTML and XHTML.
Chapter 3: Creating Your First HTML or XHTML Document.
Chapter 4: Stepping Out: Linking Your Way Around the Web.
Chapter 5: Publishing Your (X)HTML Documents.
Chapter 6: Planning for a Usable, Maintainable Website.
Part II: Planning and Designing Your Web Page.
Chapter 7: Formatting the Body Section of Your Pages.
Chapter 8: Dividing a Window with Frames.
Chapter 9: Layout Technology.
Chapter 10: Adding Graphics.
Chapter 11: Presenting Information in Tables.
Chapter 12: Web Typography.
Part III: Advanced HTML.
Chapter 13: Optimizing Your Web Pages for Internet Explorer.
Chapter 14: Optimizing Your Web Pages for Netscape Navigator.
Chapter 15: Including Multimedia.
Chapter 16: Using Style Sheets.
Chapter 17: Developing Forms.
Chapter 18: Bringing Pages to Life with Dynamic HTML and XHTML.
Part IV: XML.
Chapter 19: XHTML: HTML Goes XML.
Chapter 20: Introduction to XML.
Chapter 21: Fundamentals of XML.
Part V: Appendices.
Appendix A: HTML and XHTML Elements and Attributes.
Appendix B: Cascading Style Sheets Reference.
Index.