HTML Stylesheet Sourcebook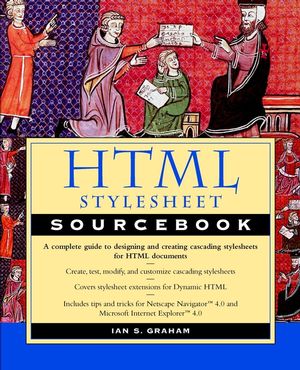 HTML Stylesheet Sourcebook
ISBN: 978-0-471-19664-8
Oct 1997
420 pages
Product not available for purchase
Description
Create more sophisticated Web pages with the new HTML technology.

As Web technology evolves, Webmasters and developers are increasingly called on to provide greater sophistication and flexibility in their HTML design. Stylesheets are designed to help them meet these demands. This practical resource gives HTML users the tools to create, modify, and customize HTML stylesheets, covering the entire process of designing, testing, and redesigning a stylesheet. Web site provides sample HTML and stylesheet documents.
Preface.
Chapter 1: Introduction to HTML and Stylesheets.
Chapter 2: HyperText Markup Language Review.
Chapter 3: Stylesheets Tutorial, Part 1: Fonts and Typefaces.
Chapter 4: Tutorial, Part 2: Text Formatting Control.
Chapter 5: Tutorial, Part 3: Formatting and Positioning of Elements.
Chapter 6: Tutorial, Part 4: Backgrounds, Miscellaneous Properties and the Stylesheet Cascade.
Chapter 7: Example Stylesheet Designs.
Chapter 8: CSS Language Reference.
Chapter 9: Advanced Features/Future Developments.
Appendix A: Color, Color Codes, and Color Names.
Appendix B: CSS Length Units.
Glossary.
Index.