Habermas: A Critical Reader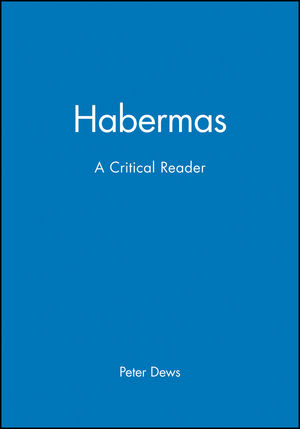 Habermas: A Critical Reader
ISBN: 978-0-631-20135-9
Nov 1999, Wiley-Blackwell
368 pages
Description
Comprised of classic and newly-commissioned papers from leading theorists, this volume provides a wide-ranging critical introduction to the thought of Jürgen Habermas.

Some contributions explore the relation between Habermas's philosophy and the thought of major predecessors, including Kant, Hegel, Marx and Heidegger. Others elucidate the political context of Habermas's thinking, while a final section presents the responses of leading German contemporaries to his work.

The result is a more rounded picture of Habermas's oeuvre and achievement than has previously been available. Habermas emerges as a thinker whose outstanding powers of renewal and innovation are inseparable from his engagement with the major traditions of European thought, and his own intellectual and political context.
Introduction: History and the Trace of Reason: Habermas's Philosophy and its Context: Peter Dews (University of Essex).
Part I: Traditions:.
1. Habermas and Kant: Judgement and Communicative Experience: Stale Finke (University of Oslo - original contribution).
2. Does Hegel's Critique of Kant Apply to Discourse Ethics? Gordon Finlayson (University of York - original contribution).
3. Habermas, Marxism and Social Theory: The Case for Pluralism in Critical Social Science: James Bohmann (Washington University, Saint Louis - original contribution).
4. Models of Intersubjectivity: Habermas, Mead and Lacan: Peter Dews (University of Essex).
5. Heidegger's Challenge and the Future of Critical Theory: Nikolas Kompridis (Wilfrid Laurier University - original contribution).
Part II: Contexts:.
6. Between Radicalism and Resignation: Democratic Theory in Habermas's Between Facts and Norms: Bill Scheuerman (University of Pittsburgh - original contribution).
7. Habermas, Feminism and the Question of Autonomy: Maeve Cooke (University College Dublin - original contribution).
8. Jürgen Habermas and the Antinomies of the Intellectual: Max Pensky (University of Binghampton - original contribution).
Part III: Critiques:.
9. Society and History: Towards a Critique of Critical Theory: Michael Theunissen (Free University, Berlin).
10. What is Metaphysics - What is Modernity? Twelve Theses against Jürgen Habermas: Dieter Henrich (University of Munich).
11. The Social Dynamics of Disrespect: Axel Honneth (University of Frankfurt).
"A fine introduction to the range and influence of Habermas's work." Ethical Perspectives
* Edited by one of the world's foremost authorities on Habermas. <<br>* Contains eleven newly commissioned articles from an international assembly of leading theorists.
* Explores Habermas's work in relation to the traditions from which it derives and presents him as a "European" thinker.
* Addresses Habermas's work in relation to the major disciplines and intellectual movements it affects.