Hack Attacks Revealed: A Complete Reference for UNIX, Windows, and Linux with Custom Security Toolkit, 2nd Edition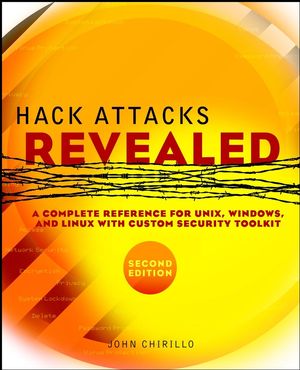 Hack Attacks Revealed: A Complete Reference for UNIX, Windows, and Linux with Custom Security Toolkit, 2nd Edition
ISBN: 978-0-471-23282-7
Sep 2002
928 pages
Product not available for purchase
Description
The much-anticipated second edition of the bestselling book that details network security through the hacker's eye
Since the first edition of Hack Attacks Revealed was published, many new attacks have been made on all operating systems, including UNIX, Windows XP, Mac OS, and Linux, and on firewalls, proxies, and gateways. Security expert John Chirillo is ready to tackle these attacks with you again. He has packed the Second Edition of his all-in-one reference with forty percent new material.
In this fascinating new edition, you'll discover:
* The hacker's perspective on security holes in UNIX, Linux, and Windows networks
* Over 170 new vulnerabilities and exploits
* Advanced discovery techniques
* A crash course in C for compiling hacker tools and vulnerability scanners
* The top seventy-five hack attacks for UNIX and Windows
* Malicious code coverage of Myparty, Goner, Sircam, BadTrans, Nimda, Code Red I/II, and many more
* TigerSuite Professional 3.5 (full suite single license)
Acknowledgments.

A Note to the Reader.

Introduction.

Part One: Technology.

Chapter 1: Understanding Communication Protocols.

A Brief History of the Internet.

ARP/RARP Engineering: Introduction to Physical.

Hardware Address Mapping Transmission Control Protocol.

User Datagram Protocol.

Internet Control Message Protocol.

Moving Forward.

Chapter 2: Novell IPX, SPX, and NetBIOS Technology.

NetWare: Introduction.

NetBIOS Technology: Introduction.

NetBEUI: Introduction.

Conclusion.

Chapter 3: Understanding Communication Mediums.

Ethernet Technology.

Token Ring Technology.

Fiber Distributed Data Interface Technology.

Analog Technology.

Integrated Services Digital Network Technology.

Digital Subscriber Line and Cable Modems.

Wireless 802.11 Preamble.

Point-to-Point Technology.

Frame Relay Technology.

Looking Ahead.

Part Two: Discovery.

Intuitive Intermission A Little Terminology.

Who Are Hackers, Crackers, Phreaks, Script Kiddies, and Cyberpunks?

Security Levels.

Kickoff.

Chapter 4: Well-Known Ports and Their Services.

A Review of Ports.

Detrimental Services and Associated Ports.

What's Next.

Chapter 5: Discovery and Scanning Techniques.

Discovery.

Site Port Scans.

Summary.

Part Three: Penetration.

Intuitive Intermission A Hacker's Genesis.

Chapter 6: Port, Socket, and Service Vulnerability Penetrations.

Example Case Synopsis.

Backdoor Kits.

Common Backdoor Methods.

Flooding.

Log Bashing.

Mail Bombing, Spamming, and Spoofing.

Password Cracking.

Password Recovery (Cisco).

Remote Control.

Routing Elements and Discovery (Cisco).

Scanning Intrusion Detection Systems.

Sniffing.

Spoofing IP and DNS.

Trojan Infection.

Viral/Worm Infection.

Wardialing.

Web Page Hacking.

Wireless LAN (WLAN) Hacking.

Part Four: Vulnerabilities.

Intuitive Intermission A Hacker's Vocation.

Chapter 7: Gateways and Routers and HTTPd.

Gateways and Routers.

The Internet Server Daemon HTTPd.

Conclusion.

Chapter 8: Operating Systems.

*NIX 366

AIX.

BSD.

HP-UX.

IRIX.

Linux.

Macintosh.

Microsoft Windows.

Novell NetWare.

OS/2.

SCO.

Solaris.

Conclusion.

Chapter 9: Proxies and Firewalls.

Internetworking Gateways.

Conclusion.

Chapter 10: The Top 75 Hack Attacks.

Part Five: The Hacker's Toolbox.

Intuitive Intermission The Evolution of a Hacker.

Chapter 11: TigerSuite: The Complete Internetworking Security Toolbox.

Tiger Terminology.

Introduction to TigerSuite Professional 3.5.

Program Modules.

TigerBox Toolkit.

Some Real-World Discovery.

Conclusion.

Chapter 12: The Hacker's Technology Handbook.

Networking Concepts.

Networking Technologies.

What Routers Need to Route Effectively.

Routing Protocols.

Virtual Local Area Networks.

Looking Ahead.

Chapter 13: Hacker Coding Fundamentals.

The C Programming Language.

A Crash Course in C.

C Programming Fundamentals.

Structure of C.

C Compilation.

Working with Graphics.

Appendix A: IP Reference Table and Subnetting Charts.

Appendix B: Well-Known Ports and Services.

Appendix C: All-Inclusive Ports and Services.

Appendix D: Detrimental Ports and Services.

Appendix E: What's on the CD.

Tiger Tools 2000.

TigerSuite Professional 3.5.

Chapter 5.

Chapter 6.

Chapters 7, 8, and 9.

Tools.

Chapter 14.

Appendix F: Most Common Viruses.

Appendix G: Vendor Codes.

Glossary.

References.

Index.
"…well worth the read…" (Slashdot, 6 March 2003)
Chapter
Page
Details
Date
Print Run
CD
Expired Pic785.exe


The file Pic785.exe from the Har2e Tools folder on the CD has expired but you can get the latest release here:
http://www.htsoft.com

However, for a much more powerful compiler I recommend downloading the FREE Borland C++ version 5.5 here:
http://www.borland.com/products/downloads/download_cbuilder.html

Borland has released their C++ Compiler FREE! You get the command line compiler, incremental linker, resource compiler and binder, C++ Win32 preprocessor, import library utility, librarian, obj/lib/exe dump utility, etc. Included is also the C/C++ runtime library and ANSI/ISO Standard Template Library (STL). You can also get the Borland Turbo Debugger to debug your programs separately.

---